Bencke Family in Japan
Faith helps to support a missionary family serving in Japan for the greater global mission of the ELCA: Patrick & Jacqueline Bencke and their children Emilie and Hannah. Patrick and Jacqueline serve at Kyushu Lutheran College of the Japan Evangelical Lutheran Church. Patrick teaches English and Jacqueline works in the music program.
The EASTER spirit in Kumamoto, in 3 different forms!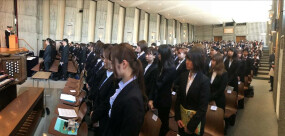 Entrance ceremony 2018! On April 2nd, the day after Easter, Kyushu Lutheran College celebrated the entrance ceremony for this year's new incoming freshmen. A total of 189 students, including 5 graduate students, were officially welcomed to the college. While "Entrance ceremonies" are commonplace in Japan, and they always happen in early April, congruent with the arrival of spring, the ceremony at KLC is unique in that it takes place as a worship service. Hymns are sung ("My shepherd will supply my need" and "God be with us 'til we meet again"), a Scripture passage is read, a prayer is offered, and a blessing bestowed. For most students, it is their very first exposure of any sort to those practices of Christianity. A new life awaits them!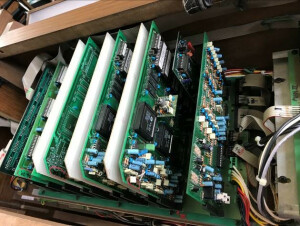 The spirit of Resurrection seemed to even touch the chapel organ. We recently had some repairs done on our dying Benedikt organ. While we didn't have to say a eulogy quite yet, we were given the word that this instrument will not have much longer. Organ repairs are certainly not unique to mission in Japan, but it's not often that normal humans get to glimpse inside the guts of an organ. I thought some of the church musicians out there might find this interesting.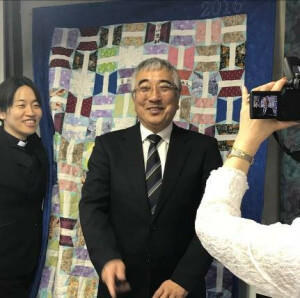 The best Easter surprise was finding out that the principal of Emilie's high school, who was also her P.E. teacher in kindergarten, and who is also a longtime friend and colleague of ours, was to celebrate his baptism! At the same church where both of our daughters were baptized, Hayashida-sensei took his baptismal vows, and afterwards, during the Easter potluck, he explained the journey of the 35 years between the time he was introduced to Christianity as a first-year teacher at Luther all the way to the day he knew it was time to take the leap of faith.
The video of the water being poured over his head is here: https://youtu.be/IW_CFwLOg50
Please celebrate with joy and thanksgiving for this life-changing, life-giving moment in his life.