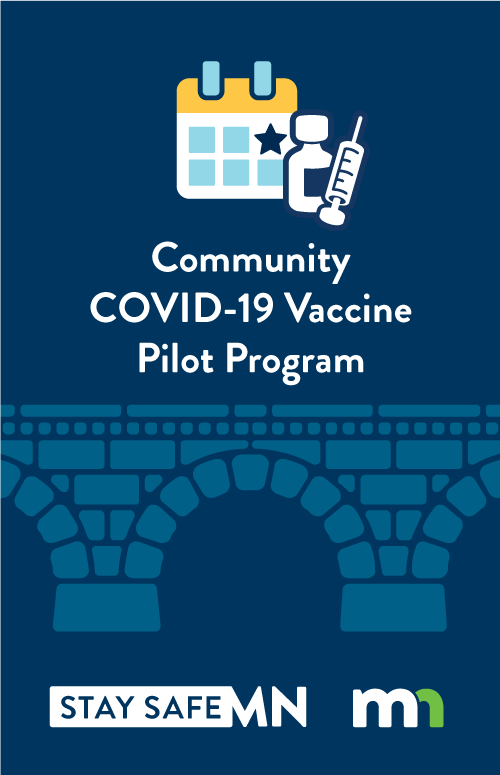 COVID-19 Vaccination Information
The State of Minnesota is distributing vaccines for COVID-19 using a phased approach that prioritizes immunizing those at highest risk of exposure and highest risk of severe disease and complications if they become infected. (More info on CDC recommendations for vaccination.)
Phase 1a - The first groups to get vaccinated include health care workers and long-term care facility staff and residents. These people will be contacted by their employer or facility when they are able to get vaccinated.
Phase 1b- details have not yet been released. We are not here yet.
Community COVID-19 Vaccine Pilot Program- Since the demand for vaccine far exceeds the supply, the state has designated 9 Pilot Program sites for distribution of the very limited vaccines available. These vaccines are available only to eligible groups and by appointment only.
Who is eligible?
People in the following groups are currently eligible to make appointments for the COVID-19 vaccine at Pilot Program sites only:
Minnesotans 65 years of age or older
Education, school, and childcare workers who receive information about signing up for an appointment from their employer.
Pre-Register for the "Lottery" (Random Selection)
If you meet the eligibility requirements above, you must pre-register using the Minnesota Department of Health online portal or by calling toll free at 833-431-2053. Pre-registered recipients are chosen through a random selection process for appointments at our pilot community vaccination sites. Signing up is NOT first come, first serve. Pre-registration means you have a chance to be randomly selected.
The online portal will be available for pre-registration ONLY from Tuesday, January 26 at 5 am to Wednesday, January 27 at 5 am. During these hours, a link will be live and available on this page. The call center will be open Tuesday, January 26 from 9 am – 7 pm for pre-registration. Online registration is encouraged.
If you are currently on the waitlist from last week, you will be automatically pre-registered to be randomly selected for an appointment.
"Lottery" (Random Selection)
After you have pre-registered, you are eligible to be randomly selected to receive a vaccine this week. If selected, you will be notified on Wednesday, January 27 by text, email, or phone with instructions on how to finalize your appointment. You must answer your phone if you chose that option. If you are selected and cannot use your appointment, another Minnesotan on the pre-registration list will be randomly selected for that appointment. All appointments are at designated pilot sites in Blaine, Brooklyn Center, Fergus Falls, Marshall, Mountain Iron, North Mankato, Rochester, St. Cloud, or Thief River Falls.
Please be patient. More vaccines are coming our way in the weeks and months ahead. We will all get our chance. In the meantime, please keep all of our front-line workers and those at higher risk in your prayers.
Be Well, dear friends.