Who is Faith Lutheran
We are churchy and not churchy. The big small church in town. We strive to relate to five different generations and do a pretty darn good job at it. We meet you where you are in life. Come for the fun children's sermon...stay for the thoughtful adult message with some theological depth. We are relaxed and dressed up. We care about the Forest Lake community. We wear robes, gowns, jeans and baseball caps. We sing Lutheran hymns and Sidewalk Prophets. We are church like you remember and church for today. We do traditional stuff like baptisms, weddings, and funerals and new fangled Halloween spooky music and Mardi Gras parties. We cook a mean lutefisk (or at least we used to) and like our coffee weak, thank you very much. We've been around since 1888 and we will never stop evolving into God's church of the future.
We are change makers.
Life is all about God's Grace. Period
Vision
Be the body of Christ: welcoming all, inspired by God, and sent out to live our Faith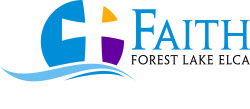 Mission
Led by the Spirit to share God's grace.
Ministry Priorities
Young Families: Focus on serving young families through ministry and family-centered activities, while continuing to support current ministry programs.
Learning: Provide opportunities for Christian education, spiritual formation and fellowship at every age.
Worship: Provide meaningful and relevant worship opportunities for all.
Witness: Serving the wider community through outreach and ministry opportunities.
Synod
Our Saint Paul Area Synod is made up of 112 congregations, mission starts and institutions committed to growing in faith and trust in Jesus Christ. Living out of our identity as Lutherans, we recognize we are grasped by grace and are free to devote our energy to being church in a way that is rooted in tradition and open to experimentation.
This means we will show up where we have not been before. We will walk with those who have felt excluded, hurt or indifferent to the witness of the church. We will act with the confidence that God calls us to meet Christ in every one of our neighbors.
Denomination
We are part of the Evangelical Lutheran Church of America, one of the largest Christian denominations in the United States with more than 4 million members and over 10,000 congregations.
Together in Jesus Christ we are freed by grace to live faithfully, witness boldly and serve joyfully.