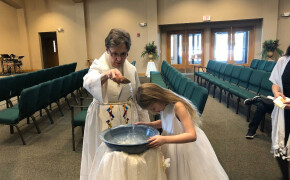 Don't let confirmation be graduation! Because when it comes to faith, none of us ever stop learning or growing!
We interviewed Marlene Elmstrom about her calling as a minister and her return to Faith as she entered retirement.
First some basics: when were you ordained and where did you serve?
I'm what is often referred to as a second career pastor. I was ordained at Faith Lutheran on June 14, 1994. My first call was Associate Pastor for Tracy Lutheran Church in Tracy, MN. In 2002 I accepted the call to be Lead Pastor for First English Lutheran Church in Ortonville, MN. I retired in 2013. From 2014 through the end of 2019, I served as Interim Pastor for four congregations: Paynesville Lutheran, Paynesville, MN; Faith Lutheran, Becker, MN; Salem Lutheran, St. Cloud; and Rejoice Lutheran in Clearwater, MN.
Where and when did you feel a call to ministry?
I think the call actually began when I was young. But at that time women were just beginning
to be included in ordained ministry. So, when asked what I wanted to do when I grew up, I said I wanted to marry a pastor. It wasn't until our youngest was ready to graduate from high school that the call became clear. While my heart said go for it, my head said, "I need a sign!" And God did just that. A very compassionate and faith-filled couple who were what I would call "quiet members" of Faith at the time, heard that I was struggling with whether or not I should go to seminary. So they offered to pay a significant portion of the cost should I choose to go to the seminary. Choose? Once that happened there was no choice.
How did your time at Faith as a child inform that call?
Both as a child and as an adult, Faith continued to provide opportunities for me to grow deeper in faith. While some can point to a particular person as the mentor that made a difference in their life, I have been blessed to have too many to mention: beautiful, loving, and dedicated SS, Vacation Bible School, and confirmation teachers, affirming pastors, choir directors, and members, compassionate and caring neighbors who not only invited and took me to Sunday School and church but provided support, prayers, hot dishes and baked goods when my mother was sick for a very long time.
What made you decide to come back to Faith as a member?
Faith has been "home" for me since I was a child. I was baptized in the original church building as an almost-three-year-old child – so I remember it! My confirmation class was the first to affirm their baptismal promises in the current sanctuary. We (mostly) raised our children at Faith. (My husband is retired military, so we were away at times.) So, of course, when after a long search we found just the right home for us in this area, there was no question that we wanted to share in the community of Faith once again!
How does it feel to be a member after serving in other churches?
It has been delightful to share with Faith once again! I'm grateful that the Holy Spirit has opened up opportunities for both my husband and me to share and serve. I LOVE being a part of the adult outreach ministry that makes phone calls or sends cards and notes to elderly and homebound members, many of whom I know or have some connection with from the past. And what a gift to be able to sing with the choir!
What would you say to the 2022 confirmands who are thinking about their faith and how to serve God?
Don't let confirmation be graduation! Because when it comes to faith, none of us ever stop learning or growing! Continue to be involved, to challenge the status quo, to wonder and question how what you are doing impacts the life of your neighbor as well as the life of God's good creation. I can assure you that sometime in the future when you're least expecting it, something will happen in your life where you'll remember how a lesson, a verse, a classmate, a teacher, an experience made a difference.
How should they explore where God is calling them?
Continue to be involved in the life of Faith, of course! Be brave enough to try new things and make new friends. Because sometimes the answers we need or the direction we need to take is given more clearly in the times when things don't work out as we thought they should rather than in when they do. And most importantly, continue to have lots of conversations with God, sometimes using the conversation of silence in order to make sense out of the challenges that surround us – in order to hear or come to recognize the presence of "God with us," always!