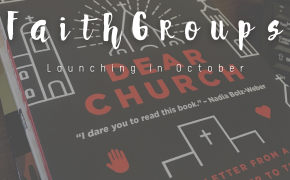 As we listen and look for what God is doing in our community, it's obvious that God's Spirit is at work during pandemic (and always) to help us re-focus and pivot the gifts we're stewarding in some pretty amazing ways.
You are invited to listen for and participate more fully in God's work in the lives of a smaller group of people... Experience life in FaithGroups.
FaithGroups is where we gather for mutual support and care. It is how we find ourselves and each other amid the clutter and clamor of daily living. It's where God shows up in ways we don't expect, and so badly need.
Starting Tuesday, October 6, 2020, each week we'll spend roughly an hour and a half (6:30 - 8:00pm) on Zoom exploring Dear Church… by ELCA pastor Lenny Duncan. He's got quite a story of reconciliation and restoration to tell us! Through his raw and refreshing insights, we'll be looking for, listening to, learning about and living into what God is up to and how we participate in the saving, healing, justice and wholeness-making grace upon which he's staked his life (Zoom link info coming soon…).
We are going to spend time hearing how God is working in Lenny's life. And in the process, we'll share our own stories and see how listening and being open to the stories of others is a part of a maturing and valuable faith — a faith and life worth sharing.
Want to get to know Rev Duncan a little bit better? Try this short NPR piece and/or this longer podcast on YouTube
Duncan's book, Dear Church... is a love letter to our church, which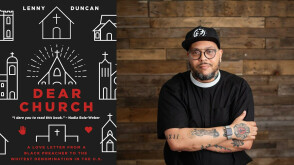 offers a challenging and hopeful way to understand God's life-giving and justice-making truth, a bold lens through which to imagine our compassionate response to racial injustice during these uncertain and tumultuous times.
*FREE* books available.
Let Nate know if you need one when you register. To register, please send a quick email with your name, contact information and how you have come to be interested in issues of racial justice and the church's faithful response.
Another way to approach this is think about how God views the human-made and historically harmful construct of race... how does God engage diverse cultures, and in what ways are we being invited to step into that activity.
No matter where you are on this part of the journey, we hope you will prayerfully consider joining us for this weekly community-wide Zoom FaithGroups experience. More info to come, so leave some room in your heart for what God wants to do in you through this exciting endeavor.