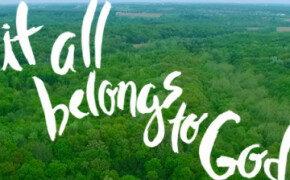 "In the Bible there are more than 2300 verses on money. It is referred to more often than heaven, hell, salvation or many of the other key doctrines of our faith. To have given such attention in the Word, it must be of great interest to God." Excerpt from Walk with God, by Chris Tiegreen.
PART OF A DISCIPLES JOB DESCRIPTION IS TO GIVE FREELY – IT ALL BELONGS TO GOD
The maturing disciple knows that everything belongs to God. Psalm 24: 1; The earth is the Lord's, and everything in it, the world, and all who live in it.
In all the majesty of God's creation, men and women have been given the highest place. The Apostle Paul reminds us in 1 Corinthians 1: 21b-22a; "He anointed us, set His seal of ownership on us, and put His Holy Spirit in our hearts." God places us in His creative order in Psalm 8:6; You have given them dominion over the works of Your hands; You have put all things under their feet.
God has blessed us with these blessings to do His work, and He retains ownership. God has placed into our keeping His creation. Genesis 1: 27-28; God created humankind in His image, in the image of God He created them; male and female He created them. God blessed them and said to them, "Be fruitful and multiply, and fill the earth and subdue it; have dominion over the fish of the sea and over the birds of the air and over every living thing that moves upon the earth."
Having dominion is not a transfer of ownership. We have been given authority over His creation and we are accountable to God for how we exercise our dominion. God has called us to Stewardship.
The Steward is not the owner.
The Steward has a position of high authority and great responsibility.
The Steward cares for the possessions of the owner both for the benefit of the owner and for the benefit of other people who depend on the owner for their wellbeing.
So much of our culture stresses ownership; my car, my house, my stuff. We are also influenced by the worldly notion that what we have has been earned by our own intelligence and hard work. All of which fosters a false sense of ownership. We are reminded in Deuteronomy 8; "But remember the Lord your God, for it is He who gives you power to get wealth." In 1 Chronicles 29: 14 King David prays; "Who am I, and who are my people that we should be able to give as generously as this. Everything comes from you, and we have given you only what comes from your hand."
If it is God who provides treasure, perhaps our thoughts ought to be:
Why has God chosen to so bless me?
How much of God's money do I dare keep?
As Steward of God's treasure, how shall I use it for His benefit and the benefit of others who depend on Him for their wellbeing?
As God's beloved children we can rejoice and celebrate our role as God's Steward. We can go forward in the full knowledge that God promises to be with us, and He will provide in abundance so that we can respond to His call to great and wonderful things. 2 Corinthians 9:8; And God is able to make all grace abound to you, so that in all things at all times, having all that you need, you will abound in every good work.