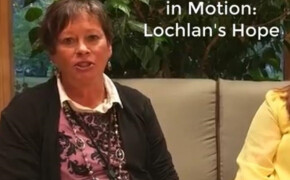 I am writing to tell you about a new community based partnership, providing grief support to parents who have lost a child. Currently the closest group is in the metro -area which provides an access barrier to many young parents grieving the loss of a child. The partnership called "Lochlan's Hope Community Based Partnership To Provide Grief Support To Parents Who Have Lost A Child" brings together Lochlan's family, Mattson Funeral Home, Roberts Family Funeral Home and area churches including Faith Lutheran .
Lochlan was a healthy little boy who died suddenly when he was four months old. Two years later at the baptism of the family's third child they heard of a Mission Grant Program offered at our church. Still grieving, wanting to do something to help others through their grief journey, they wrote a proposal for a mission grant. We started with asking Mattson's and Robert's Funeral Homes to join with us. The Mission Grant funding was used to put Memorial boxes at both funeral homes to pass out to families who lost children between miscarriage and 18 years of age. The box, given out by the funeral home, contains a prayer shawl, light catcher, candle, angel bear, two support books, 3 resource brochures on grief support and a card that is written by Lochlan's Mother offering support and sharing how much others care for them. In addition it invites the family to a grief support group at Faith Lutheran Church on the 3rd Sunday of the month at noon.
On October 15 our group met for the first time. As we closed the session each parent lit a candle with their child's name on it and was given a container of forget-me-nots to plant at their home in memory of their child.
On the first Sunday of our grief support group beginning, our congregation members were invited to light a candle in the chapel after services in memory of a child they have lost. 35 candles were lit.
If you know anyone who has lost a child please contact them and invite them to Lochlan's Hope Grief Support Group. The loss of a child is the most devastating of losses. Grief support group's have been shown to help parents as they grieve. Our November and December meetings will focus on how to deal with grief over the holidays.