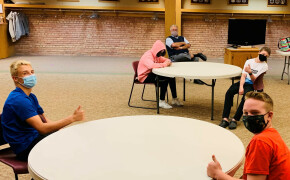 In-house mixed-aged Sunday School begins April 11. Register today!
We are offering mixed-age in-house Sunday School April 11, 18, and 25.
9 am, 5 classes - 50 children max
10:30 am, 2 classes - 20 children max
Register online at Faithfl.org beginning on March 22 (first come first serve basis).
Safety Precautions
Classes capped at 10 children.
Children will not begin in the sanctuary. They will be in their classroom for the hour.
Masks are required.
Door 11 will be the drop-off and pick-up area.
Children will go directly to their rooms when dropped off.
Parents, if you wish to stay for service, enter through Door 6.
Remember to check your email at 10:00 am on Sundays for the virtual lesson of the day!