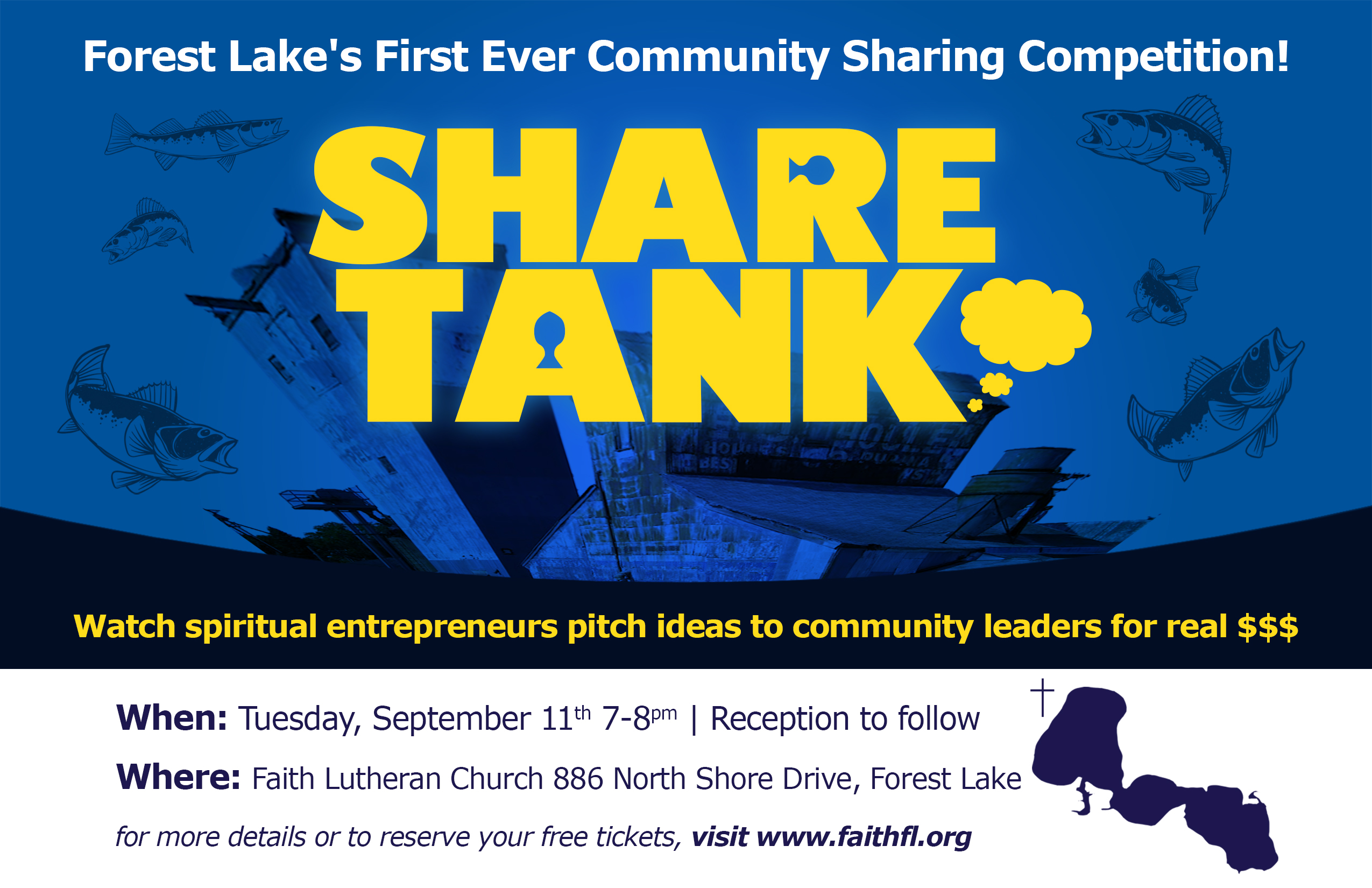 An abundance of resources to share
There's a show called "Shark Tank" on ABC in which entrepreneurs pitch their new inventions, ideas, or products to a panel of venture capitalists, "sharks," in hopes of landing an angel investor to provide more money to help grow their idea.
The contestants get asked about their product and the sharks have to decide whether or not they want to partner with the idea—they are committing their own money, but also their expertise and experience, to try and help the entrepreneur have more success in the future.
A pastor friend of mine told me that his youth group held a "Shark Tank" type event at his church—pitching fun ministry ideas and having members of the congregation vote on which ideas to do together.
At Faith Lutheran, our congregation has discovered an important ministry in which members submit "mission grants"—essentially, spiritual entrepreneurs think about ways to do ministry out in the world and they request funds to make those projects a reality.
In 2017, thanks to money set aside from an estate gift, we began this grant process and were able to share the stories of new ministry each week in the fall.
In 2018, $15,000 is set aside to continue this important mission grant ministry.
But… we want to have some fun, too.
On September 11th, four of the grant requests will be asked to pitch their ideas to a panel of "sharks" from our community. You might know them:
Rick Peterson, Chief of the Forest Lake Police Department
Linda Madsen, Former superintendent and current board member of Lakes Center for Youth and Families and TEFFLA. Currently working as a consultant for the Greater Twin Cities YMCA
Robin Lind, local entrepreneur and owner of Dance Tech studios
Eric Ernst "Ernie", owner of Ernie's Eatery and Ernie's Ice Cream Parlor
Each of these leaders has a reputation in Forest Lake of promoting community and supporting efforts to help each other—what better partners to walk alongside our mission grant leaders?
Faith will host our own version of the show, but instead of "sharks", we are emphasizing the importance of sharing. "Share Tank" is coming to Faith Lutheran on Tuesday night, September 11th, at 7 pm. The four spiritual entrepreneurs will explain their grant request and how it will make a difference in our community.
The sharks will each have a budget from the Faith mission grant funds which they will use to determine the amounts each grant is awarded that night. It promises to be an exciting way to promote how Faith Lutheran sees God at work in our congregation and more importantly, how our community is an integral part of our congregation.
We want you, our neighbors, to come celebrate with us. You might generate ideas or learn about partnerships that you can bring back to your own congregations, community groups, or places of employment. "Share Tank" isn't an original idea to Faith—perhaps you might even do it within your context!
Think about how important this work is in our community right now.
In a time where there are plenty of fears about having "enough", come be part of an event that tells Forest Lake that we have an abundance of resources to share with each other.