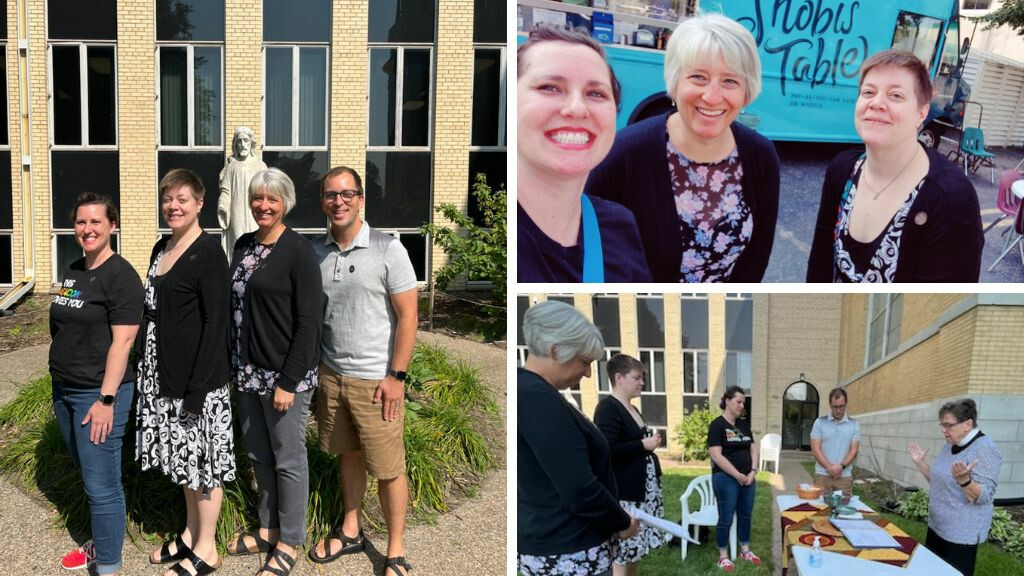 And be of good courage, for God has called you.
Deacons are called to the ministry of word & service and serve in a variety of ways, but always with a heart to the edge - where church and world intersect. Bishop Lull called the deacons of the Saint Paul Area Synod together to present us with the new deacon cross pins, generously gifted from the synod. We gathered for worship in the Garden of Peace outside Christ Lutheran on Capitol Hill. As we worshipped, the busy sights and sounds of the city were all around us. The light rail dinged as it came and went through our scripture readings. Cicadas cried out as we prayed for the world. Cars drove by blasting music as the words of institution were spoken over holy bread and wine. Pedestrians walked by as we were reminded of the charge given to us in ordination.
In the Garden of Peace is a Jesus statue, whose hands have been broken off. In this holy public space of worship, I was struck by the power we have to be Christ's hands in a broken and hurting world. We are not called to a faith that is silent, secluded, and by-invitation-only – but to live by faith out in the world. We were blessed by this gathering and blessed for our ministry to people and place that are hurting.
Following worship, we stayed for lunch at Shobi's Table – a pay-as-you-can food truck ministry. As we ate an incredible lunch, it was beautiful to see the coming together of those desperate for a hot meal, churchy folks like us deacons and the synod staff, and very well-dress professionals from the Minnesota State Senate office across the street. Here in the shadow of the capital, was one of those beautiful intersections of the church and the world. All who were hungry left with full bellies. I left with a full heart and these words of blessing!
"And be of good courage, for God has called you, and your labor in the Lord is not in vain."
Deacon Cross Link - https://download.elca.org/ELCA%20Resource%20Repository/Deacon_Cross_Pin.pdf
Shobi's Table - https://shobistable.org/