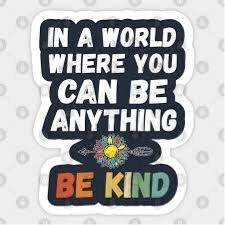 Be Well Faith Update December 22 2020
From the time our first "Be Well" message was written until now, we have discussed many things to do. We have listed and linked to practices and protocols that will keep us safe in this time of pandemic. We are working hard, being patient, and hanging on for the day when things are….improved. In this week, when we prepare for the birth of "Jesus our brother, kind and good," let's focus on the fact that being kind can also help us "Be Well."
On a recent morning news show these statements were powerful enough that we should be remembering them and practicing them.
Kindness implies action. (We have to DO something.)
Kindness is a stance. We decide to do it and we stand by it. (It's not just lip service.)
Kindness is a power we all have. We just need to decide how to use it. (We can ALL be kind!)
Faith, you have been kind in many ways: donating for school supplies, food needs, warm clothing; growing vegetables; mowing the lawn; praying for others; decorating Faith spaces; communicating with those in need. The list is endless.
Supporting this church and all its ministries along with other organizations and causes dear to your hearts show that YOUR super power of KINDNESS is alive and well. Support can be an action, a word, a prayer, or a financial donation. But it is doing something; taking a stance.
Keep practicing kindness in the days, weeks, and months ahead. By being kind, we choose to show Christ's love, come down to Earth. Joy to the world! Oh, come to us Emmanuel. Amen.