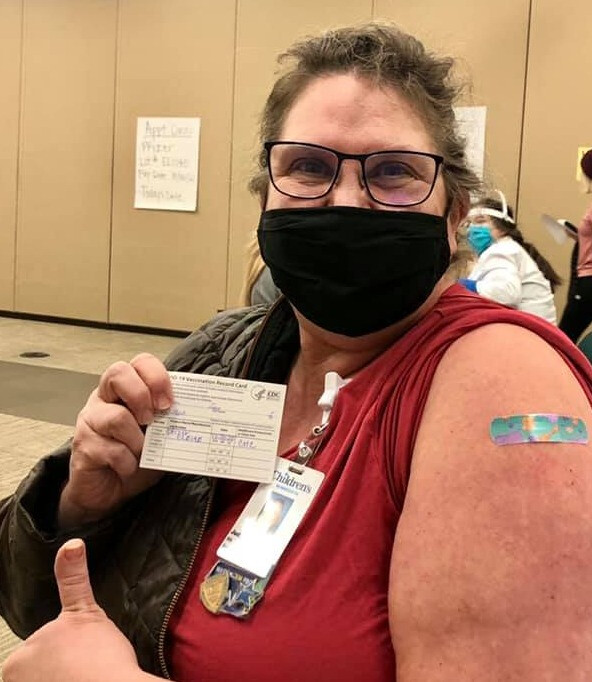 Be Well Faith Update January 5 2021
Pictured is Faith member Judy Espinosa. "Got my COVID-19 vaccination today. Excited to protect myself, my family, and my community!"
If the word of the year for 2020 was pandemic, an early contender for 2021 will be vaccine. We know that nothing is going to turn around immediately. We know there are many questions you may have about the vaccines and how they will be rolled out. There are many pieces of information floating around for the public. Sorting through all of that may seem challenging.
The Minnesota Department of Health is continually updating their resources and materials. What is printed below comes directly from their website.
COVID-19 Vaccine
Got questions about COVID-19 vaccine? Check out the latest resources and information on COVID-19 Vaccine. The vaccine is being rolled out in phases, so it will take time before everyone can get it. We will provide updates as we learn more
How COVID-19 Vaccines Are Made (PDF)
This handout explains how the COVID-19 vaccine processes and timelines were made more efficient compared to other vaccine development.
Frequently Asked Questions About the COVID-19 Vaccine (YouTube)
Would you like to provide feedback to MDH on the equitable distribution of vaccine in Minnesota? If so, Minnesotans may provide feedback through the MDH website: Minnesota COVID-19 Vaccine Allocation Advisory Group. This feedback is time sensitive and needs to be entered by Thursday, January 7, 2021 at 5 pm.
Be Well, Faith! Reach out if we can offer hope and support in your education around vaccines.