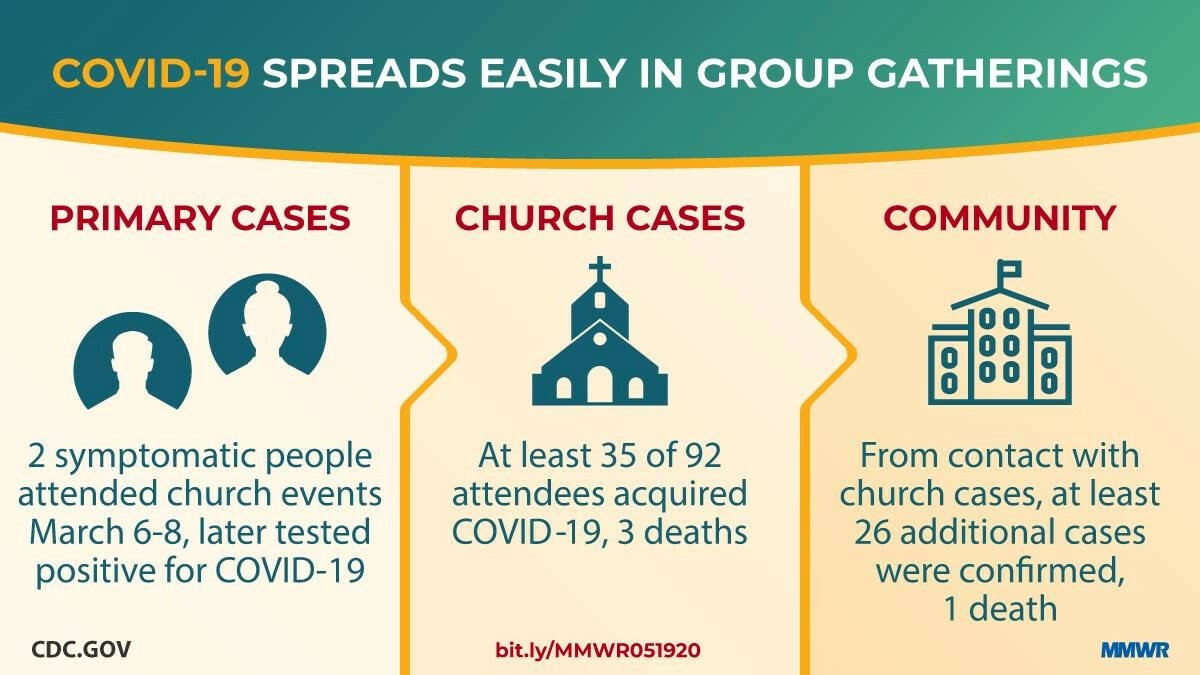 The Be Well Faith committee has been formed to create a multi-phased approach for how and when we will be resuming activities in person within our Faith community. The people on this team include: Linda Burk, Mike Slavik, Deacon Nina, Deanna Ramberg, John Chauss, Jennifer Tolzmann and are meeting weekly to consider the latest recommendations on COVID-19 response from the ELCA and our health officials to make recommendations to Council about how and when we will physically gather.
We are sharing this graphic with our Faith Community to demonstrate the spread of COVID-19 in group settings. Our work together is to Be Well as a Faith Community by creating a plan and timetable for gathering that shows care for the well being of each member of our community.
We currently have 2 events scheduled at Faith, Blood Drive and Life Line Screening. This committee is making the following recommendations to council about scheduling these 2 events:
It is recommended to Council that the Blood Drive continue as scheduled at Faith. Because the Blood Drive is run by medical professionals, we are assured that all safety precautions have already been considered, developed and implemented to protect the volunteers and staff from COVID-19. There is a need for volunteers to give blood during this time and this is an opportunity for Faith to continue our mission to help those in need.
It is also recommended to Council that the Life Line Screening continue as scheduled at Faith as it too is run by medical professionals who will follow safety precautions for COVID-19. Life Line Screening provides early detection for life threatening health issues and is part of our wellness program for our Faith community.
Be Well Faith updates will be posted on our blog each Tuesday. Questions can be directed to Linda Burk at 651-470-4106.