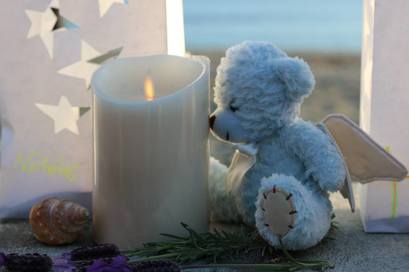 Finding Community in Grief
A year ago, Faith Lutheran Church received a grant request to help families who were grieving the death of a child. It was submitted by a family that had personally experienced this pain and was looking for ways to help other families who would need support as they took the first steps into life without a beloved child and all the intense pain which accompanies this loss.
What began as a hope to help a family facing immediate loss has evolved to walk with families and individuals who are on the grief journey.
Lochlan's Hope continues to respond to the initial grief. The grant funded a ministry of memory boxes that the local funeral homes, Mattsons and Roberts, give to a family when they have a funeral for a child. In the box are a prayer shawl, books and resources, and a homemade sun-catcher. There's also a letter telling the family that they are not alone—there are others who grieve and can walk alongside them.
Last October, the first meeting of the grief support group happened at Faith Lutheran on a Sunday afternoon. During worship that morning, we offered a candle and a quiet place to light the candle in memory of any child who had died. There were a lot of candles ignited that morning (we'll do this again on Sunday, Oct. 14).
The grief group, however, was not as large. But those who attended felt an immediate connection—all who shared began to understand that they were not alone in their grief. A year later, they continue to meet and are going strong. Here's what a few of them had to say:
"The grief support group offered a space where I felt connected right from the start. It has now become an hour that I'm grateful for and look forward to each month."
"This group has really helped with my anxiety and has provided me a safe haven to speak openly and honestly about losing our son. Being able to do so has helped in my healing process."
"The grief group has been an amazing place for us. We felt so alone is our struggles and although the first time walking through the door was tough, it was the best decision we could have made. It is a safe, non-religious meeting of people who understand what you're feeling and are there to hear your story and give you a safe environment to open up without judgment. We truly enjoy going and it has helped us realize although our loss will never change, you are never alone."
The group has also started to engage in the next phase of the grieving: actively promoting this group to others who are suffering in silence or are afraid to talk about the biggest loss imaginable. The group meets in the library at Faith Lutheran on the third Sunday of the month.
One way they plan to spread the word is by hosting a community event. One member said "I'm excited about ways to give back to the community."
On Oct. 15, which is National Pregnancy and Infant Loss Day, the members of the grief group are hosting a "Wave of Light Ceremony" to remember a miscarriage or a child who has died. This will be held at the Lakeside Memorial Park Gazebo at 6 p.m. Light refreshments will be served, but more importantly, anyone who's grieving the death of a child is encouraged to come light a candle in their memory.
If you are grieving, come. If you someone who is grieving, please spread the word. Maybe, just maybe, you'll find someone else who understands what you're going through and will be able to help you realize that you, too, are never alone.