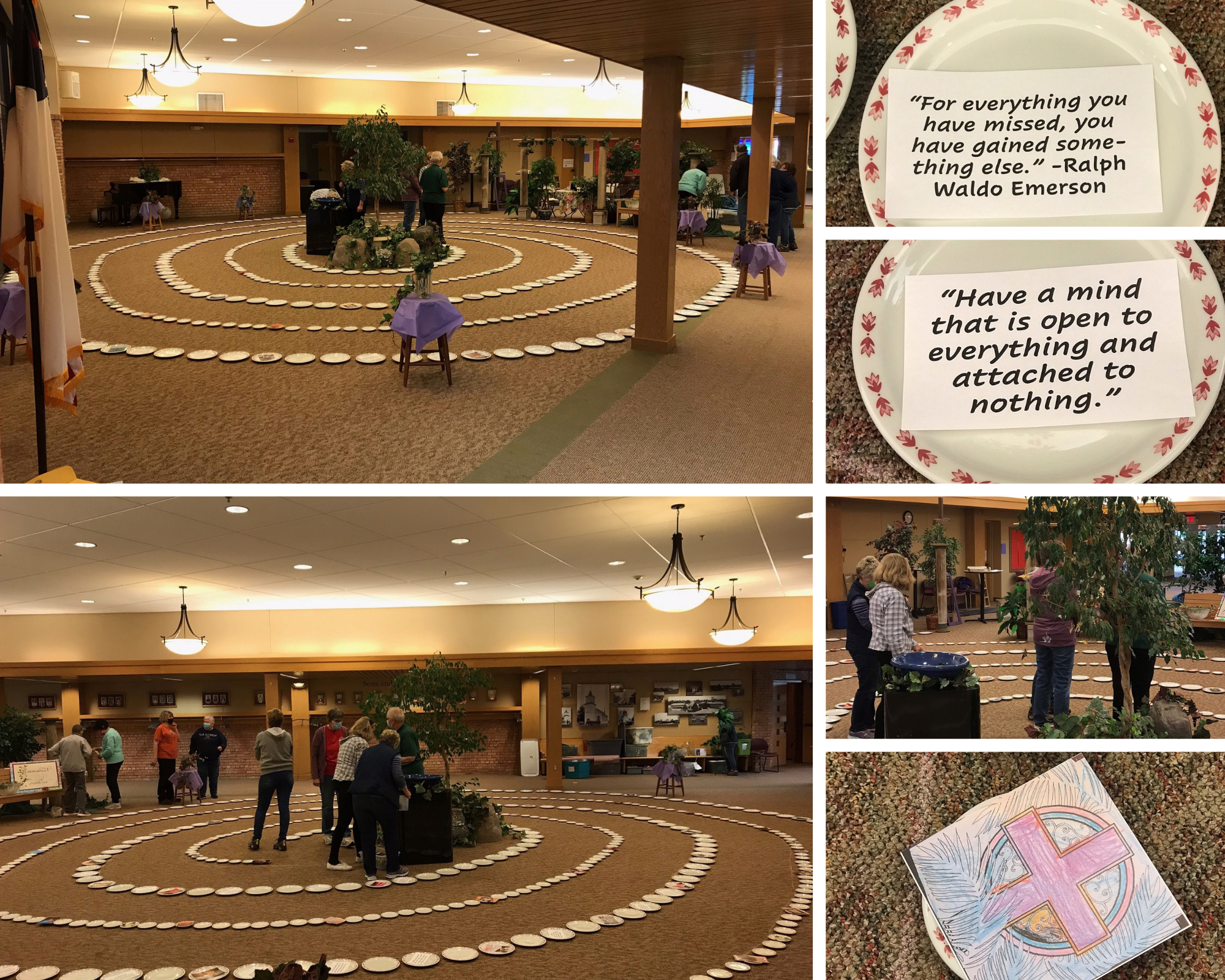 Our indoor prayer labyrinth is now open! Come through Door 1 to experience this unique prayer opportunity. It can be especially meaningful to walk a labyrinth during the journey of Lent, as we physically move through the labyrinth space.
Praying through a labyrinth is an ancient prayer practice that involves your whole body. It can be done no matter your age. Adults, youth, and entire families are welcome to come and experience this. You move at your own pace - sensing the floor, breathing deeply, engaging all of your senses and moving deliberately. You cannot lose yourself in a labyrinth (despite what David Bowie may have led you to believe). It is not tricky or mentally challenging like a maze. It is simple and straightforward. There is one path in and out.
I encourage you to take a few minutes to calm and center yourself before you begin. Remember to pray the labyrinth slowly and with intention – it is not a race. Take time to ingest the images and words of the space. If another pilgrim is on the path, simply respectfully step aside and allow them to pass.
Before you begin, consider what weight you are carrying or what battle you are facing. Each of us comes with different weight that God calls us to release. Perhaps it is a process of forgiveness, rest, acceptance, or judgment. Visualize yourself sitting at the table with this situation, person, or decision. Imagine pouring a cup of tea (and maybe some cake!) and sitting down face to face with this issue or person. When you are ready, pick up a small stone to represent the weight that you carry. Then begin your time in the labyrinth.
A labyrinth has three stages. The first stage is from the entrance to the center. This time of prayer is a letting go. During this section of the labyrinth, allow your mind to quiet, and your grip to loosen on those things you need to leave behind. Consider what God is calling you to release and seek to liberate yourself from the weight you are carrying.
The second stage happens in the center of the labyrinth. This is a space of communion with God, a place for meditation and prayer. Notice the presence of Japanese origami cranes in our labyrinth – symbolizing the presence of the Holy Spirit, peace, and hope. Touch the waters of baptism. Experience the Tree of Life that is nourished by the waters of baptism. You are invited to physically let go of the stone (the weight) that you have been carrying into the baptismal font.
The final stage of the labyrinth is taking God with you out into the world. As you leave the center, follow the call of God out in the world. Leave behind the battle that you looked in the eye before you began. Know that through this experience, you have been empowered by God's Holy Spirit and encouraged to live out your calling – inspired, emboldened, and energized by the Spirit.
Of course, the labyrinth can be prayed in another way that works for you. It may be best to simply slow down, breathe intentionally, and move through the space in quiet prayer. Know that you have permission to approach God in your own way through this experience.
You are invited to take a moment of rest and reflection on the bench at the exit of the labyrinth. Sit awhile beside Immanuel (God with us), as you process or simply relax in the presence of your Creator. When you are ready, you may exit the labyrinth space and courageously re-enter the world.
Our Lenten Labyrinth is available during business hours: Monday – Thursday 8am – 4:30pm or 8am – noon on Fridays. It will remain available from now until Monday, April 5. There is no appointment needed. Simply come in and enjoy a time in prayer. The labyrinth is handicap accessible and can accommodate most wheelchairs and/or walkers. All are welcome!