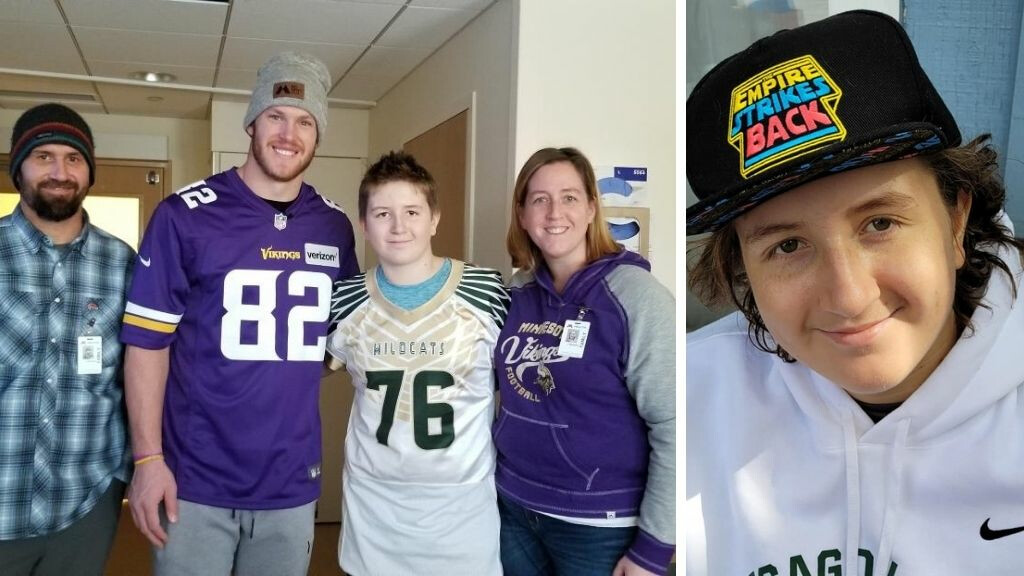 I see it written in obituaries all the time… that a loved one "lost a battle with cancer."
We've been culturally conditioned to see death as a loss and we've given cancer the power of victory.
Dylan Marshall, at the age of 15, died from cancer earlier this month.
But, as I told the hundreds of mourners, including his large family, teammates, and members of the Chisago Lakes and Forest Lake school districts, Dylan Marshall was a lot of things, but he was not a loser by any stretch of the imagination.
We say that cancer won because cancer is the obvious target. It's the evil. It's the word we dread. But we don't write that someone lost a battle with cholesterol if they have a heart attack. We don't say a grandparent lost a battle with time when they stop breathing in their 90's. No, they died. We all die. Death is undefeated… well, almost, but more on that later.
When Dylan was first diagnosed with leukemia in 2019, orange bracelets were distributed with #TeamDylan and Losing is not an Option printed on them.
Dylan met former Vikings tight end Kyle Rudolph when quarantined at the University of Minnesota Masonic Children's Hospital. A few weeks later, Rudolph caught the winning touchdown to defeat the Saints in a playoff game. #TeamDylan felt like this was more than just a win by the Vikings. It was a win for Dylan.
Dylan wasn't in quarantine because of Covid. He was in a bubble to protect his immune system from the treatments he was taking.
That spring, when Covid was upon us, Dylan had a bone marrow transplant from his sister Kennedy. Soon after, he was cancer free.
Dylan appeared in a video at Faith Lutheran in which he declared, "I beat cancer, man". He followed this up by adding "I was doing quarantine before it was cool."
The congregation roared with laughter and applause.
Dylan played the next football and basketball season. He went on adventures with his family.
He told his parents, Jon and Jen, on the first day of football practice that something didn't feel right. Jen asked him if he wanted to go in and get it checked out. When he said yes, they were concerned.
14 months later the cancer was back with a vengeance. He would have to go through the rigorous treatments. Again.
This time, the cancer would not go away. Dylan was not going to survive.
Dylan was the biggest advocate on #TeamDylan that losing is not an option. Yes, cancer was claiming his body, but at no point did cancer ever defeat his spirit.
I learned so much from the quiet confidence of Dylan Marshall in the last few years. He was always planning ahead. There was always a future. Seriously, Jon and Jen will keep getting packages delivered from Amazon in the weeks to come because Dylan kept ordering things that could put a smile on your face.
Dylan lived furiously with the remaining breath he had. He saw a spaceship launch at Kennedy Space Center. He visited the Atlantic and Pacific Oceans—he loved being in the water. Trying to get over to see Dylan since Christmas was often a two-three week scheduling adventure because of his full itinerary of events and experiences he did with his family.
Dylan, most importantly, knew that he was loved and he shared that love in return. His biggest sadness through his diagnosis was how sad it made his family.
At his funeral, I told a gathering of believers and non-believers that the reason why we had this service in a church was to honor Dylan's faith. Our belief in Jesus is focused on hope. We know that Jesus died and then rose from the dead—he literally defeated death, so that when we die, we receive the promise of new life.
#TeamDylan will miss our captain. Cancer tried to beat him, but it couldn't. Dylan died a winner.
Pastor John wrote this article for the May 27th, 2022 issue of the Forest Lake Times