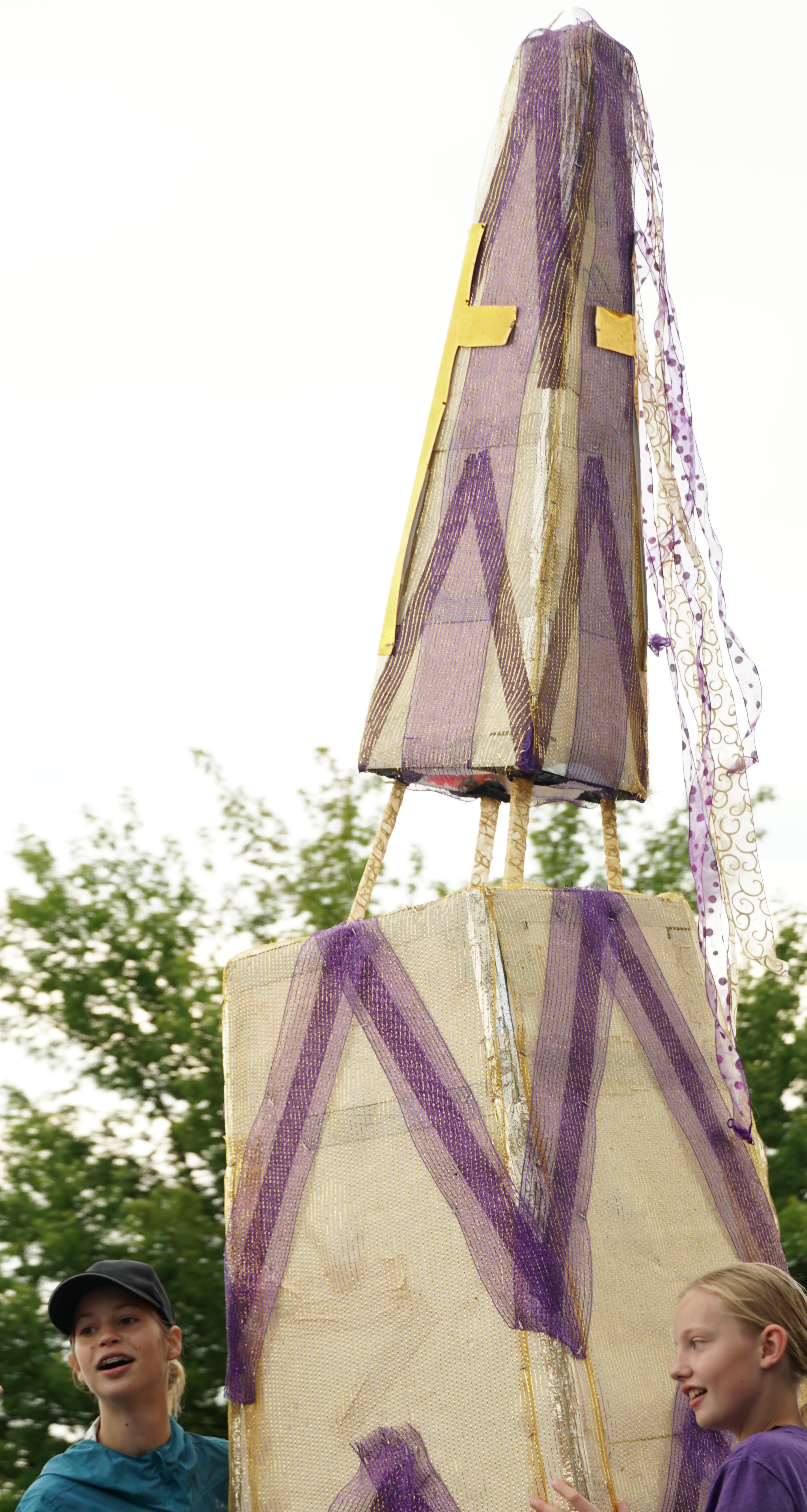 Loves Like a Hurricane
Neither thunder nor rain nor low hanging wires stays these evangelists from the swift completion of their appointed parade route.
Sometimes all you can do is laugh.
Our parade planning started in March. The overall theme of the parade was "Can you hear the bell of freedom?" We decided to create a replica of our Faith bell tower. When we ring that bell every Sunday it is a glorious celebration of our freedom to worship.
An act of worship is to reach out to our community, sharing God's abundance with those in need. We would celebrate this freedom to share! Our upcoming event, Share Tank, on September 11th, will be Forest Lake's first ever community sharing competition. Our parade evangelists would carry signs celebrating our freedom to share and pass out invitations to Share Tank.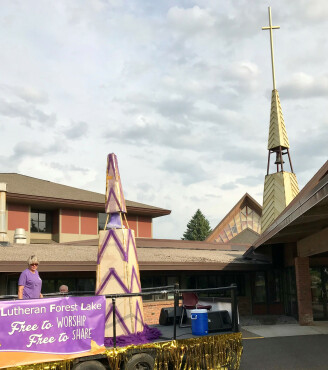 Months of planning and dozens of hours of trailer repair and tower building all led up to this shiny, glorious creation! We carefully considered the height restrictions of the overhead pedestrian bridge downtown Forest Lake. We secured the tower with stanchions and wrap. Parade evangelists donned brand new purple shirts. The float sparkled in the morning sunlight. 48 volunteers contributed to this moment!
We pulled out of the parking lot on the morning of July 4th as the clouds started to roll in. When we turned onto the side streets to get to our place in the parade line up, low hanging utility wires and tree branches damaged our tower. After getting to our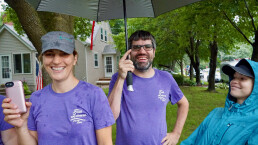 place, we tipped the tower on end (seeing another low hanging wire ahead) and made repairs as best we could. Then the Heavens opened, and it started to pour. And pour. And pour. We sheltered in place, in the Faith van, under umbrellas.
After a rain delay, we finally got moving. We paused the float at the parade start and righted the tower. We had set our play list on 'shuffle' deciding to "let God decide" what to play during the route. As we were lifting the tower, the lyrics from Casting Crowns song "God of All My Days" played:
I hid from You, haunted by my failure
And found the God whose grace still covers me
I fell on You when I was at my weakest
And found the God, the lifter of my head
And I've worshiped You
And felt You right beside me
You're the reason that I sing
'Cause You're the God of all my days
Failure? Weakest? God lifts us up! It wasn't the parade day we dreamed of, but God is the God of ALL our days. The rain stopped, and our evangelism started. As we passed out flyers we heard comments like "I LOVE this song!" and "Thank you Faith!" We smiled, we waved, and we shared God's love in our community.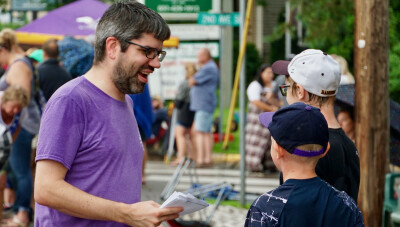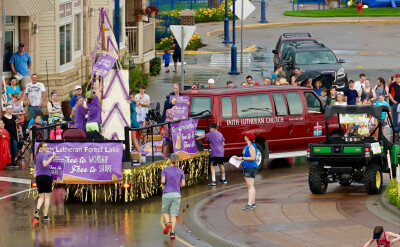 At the end of the route, we tipped the tower down, preparing for our ride back to church. God once again picked the perfect lyrics, this time from "How He Loves" by David Crowder Band
"He is jealous for me, Loves like a hurricane, I am a tree,
Bending beneath the weight of his wind and mercy.
When all of a sudden, I am unaware of these afflictions eclipsed by glory,
And I realize just how beautiful You are,
And how great Your affections are for me."
A comment from one of our evangelists, Sharon Fjeld-Grotte, who invited her Norwegian relatives to participate in the parade: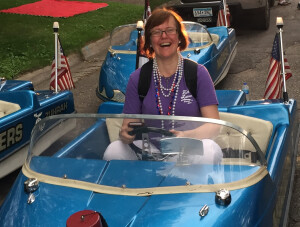 "Thanks for the ride and putting up with an old lady and her friends. My relatives from Norway enjoyed the event in spite of the rain. The Good Lord calls us in many ways, to share, worship, and participate any way we can. They asked if they could take the pretty shirts home with them. That too might be their way to minister to their family and friends. "
Our evangelism is reaching well beyond our Forest Lake community and into the world.
Thanks be to God.