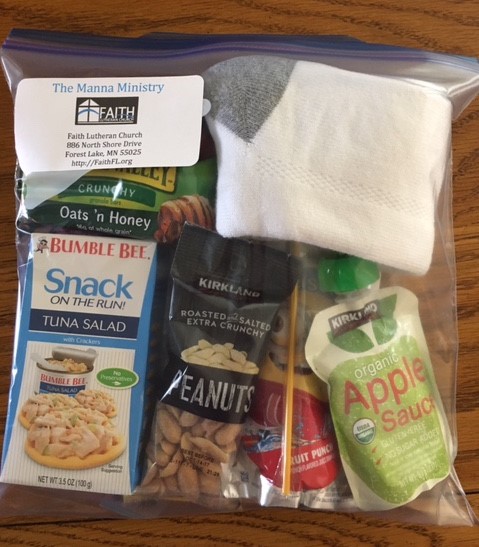 Manna Pak Ministry Makes a Difference
With start-up funds provided by a Dorothy Clingman Grant, the Manna Pak program began with presentations to the congregation and the Wednesday night services back in October. Since then, more than 150 Paks have been purchased, and are being given away to share God's love with those on the side of the road asking for help.
By carrying one or several Faith Lutheran Manna Paks in your car, you will be prepared to provide for the needy. This ministry will be self-sustaining by asking for a $5 donation for each bag and using volunteer help to shop for Pak contents and to pack them monthly. A big "thank you" to the high school youth who have assembled all of the Manna Paks.
Stop at the table in the North Lobby on the third Sunday of each month to get your Manna Paks and help with this outreach ministry! Paks are also available in the church office.
If you don't regularly encounter those needing help, you could make a donation to this ministry to help cover the costs of a hat or gloves that are being added this winter.
As we've been "selling" Manna Paks, we've asked people to come back and tell us their stories. Here are two of them that show how this ministry has impacted lives – both the giver's and the recipient's.
From Colleen Diemer:
I wanted to send you a note to share what a difference the Manna Pak ministry is making and to thank you for your support of this wonderful program! I work at Ecolab in downtown St. Paul and see men and women seeking assistance nearly every day near the on ramp to 35E.
This past week, I pulled up to the usual stoplight and offered a Manna Pak to the gentleman holding a sign that said "Anything Helps – God Bless." I quickly explained that the packet contained healthy snacks and warm socks and he exclaimed, "Socks?! Let me show you something Ma'am…" and he proceeded to lift the jean cuff at his ankle to show he had no socks on at all beneath his tennis shoes. And this was a day with temperature in the teens and a lightly falling snow. He was ecstatic and proceeded to pull out the socks to put them on immediately as the light changed and I drove away.
Thank you for…this great ministry – it truly is a blessing!
And from Barb Mickelsen:
In 2017 Faith Lutheran introduced a new ministry called Manna Paks. The packs are made up of non-perishable foods along with socks, hats, gloves, etc. and are to be given to homeless and street people we encounter.
Working downtown Minneapolis, I see people every day that are down on their luck or visibly struggling to exist. In the past I have bought them food or given them money. My opportunity to interact is very limited as I usually make contact at ramps getting on and off the freeway. It is very heartbreaking and gut-wrenching to know that my small offers do little to nothing to change theses people's lives.
The Manna Paks do have a positive impact. When I get a chance to put my window down and wave and say 'Sir' or 'Ma'am' and hand them the pack, they do look it over and most often tuck it into the backpacks they carry. One time calling out 'Sir,' the man looked around and asked if I meant him?! He smiled at the pack and took out the socks, tucked the rest into his backpack, sat down, and immediately put on the socks, then put his shoes back on. I looked in my side mirror, and saw him waving at me as I drove away.
A couple of weeks ago, I could see ahead a few blocks and knew there was someone standing in the median. As I got closer, I could see the man shivering. I got a red light! This usually gives me a few extra minutes to visit. After sizing up my safety, I opened my window and waved him over. I had a small fleece blanket ready to go. When he came to my window I said 'I love you', and 'do you want this blanket, but it's small.' He stared at me so intently, and spoke very slowly. "No one has told me that for 10 or 15 years." I repeated 'I love you' and 'Jesus loves you too. Would you like this blanket?' He took it and put it on over his shoulders like a cape. I handed him a Manna Pak. He took out the hat and put it on.
As he bent over to tuck the rest into his backpack, he said I must be a special person. I told him 'no,' that he was the special person. I told him I wanted to pray for him and asked him his name. His name is Warren, the same as my husband who passed away three years ago! With teary eyes I told him I would look for him. Warren said he would watch out for me too. Isn't that just like God?
"Do not neglect to show hospitality to strangers, for by this some have entertained angels without knowing it." Hebrew 13:2