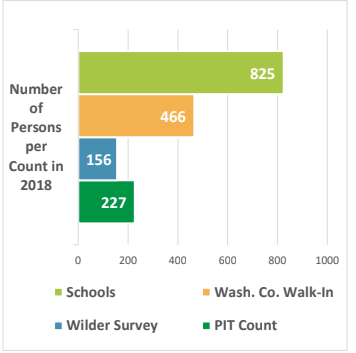 Sacred Settlement Update: Do People in Washington County Need Our Help?
Homelessness often seems far away and an issue for the city. We live in Forest Lake. It can't possibly be a problem here, right? Unfortunately, there are a lot of people in our community that need our help. For those that experience homelessness, it isn't some far off issue. It is intensely personal, and anyone that has the misfortune of experiencing job loss or unstable finances or a traumatic event can become familiar with the fear of homelessness quite quickly.
At any point in time (PIT) in Washington County, over 150 people are seeking shelters or living unsheltered or doubled up, based upon a federally mandated annual count that occurs in the last week of January (See PIT count in graph). Of course, these numbers can fluctuate highly over the course of a year, especially with Minnesota's winters, so it's also helpful to look at a more inclusive, cumulative count of people experiencing homelessness.
The most inclusive metrics of homelessness come from our schools, which shows that over 800 people in Washington County experience a state of homelessness throughout the course of a year. While there are other definitions of homelessness and ways of estimating the homeless within Washington County, the methods are less important than the message. There are people in our community and in our schools that need our help, now more than ever.
The governor will lift the eviction suspension put in place in August and Homeline, Minnesota's largest tenant defense non-profit, estimates 8,000 evictions will occur within the state. We pray that no one needs to face the struggles of homelessness. For those that do, we pray that everyone in our community sees their need.