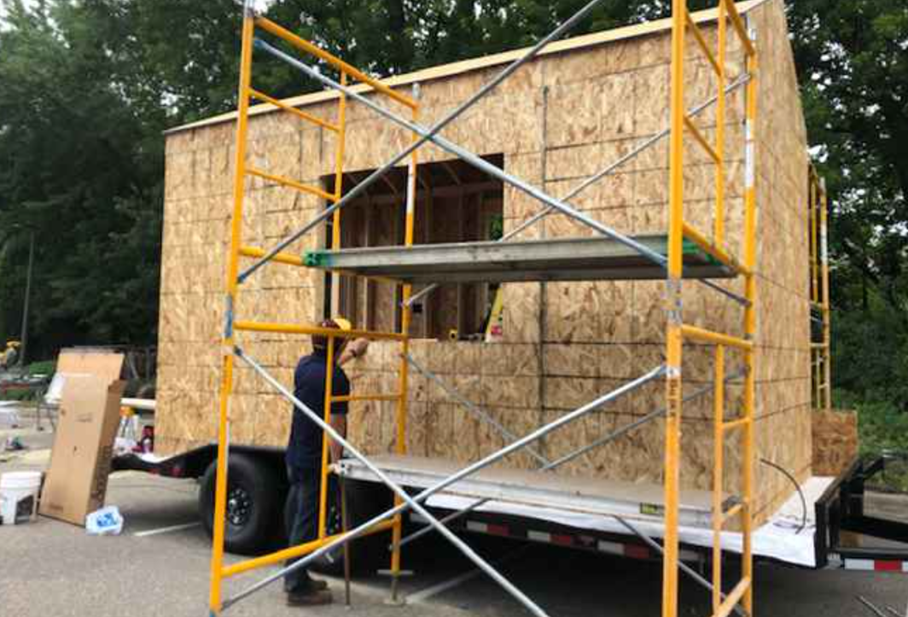 Sacred Settlement Update: Give us your feedback and come build a tiny house with us!
Since we've joined the Sacred Settlement Team, we've been blown away by the congregation's passion to fight homelessness. As a congregation, we are learning more about homelessness and the different ways in which we can make an impact. This has been an exciting month for us! We have committed to build a tiny home for a homeless veteran through Settled, which will be placed in a faith community in St. Paul. We also made the decision to extend the timeline to bring forward a detailed proposal for the Sacred Settlement at Faith Lutheran.This gives us the opportunity to make sure we are moving forward together, and for that we would like to ask for your feedback in the form of a survey.
Build a Tiny Home (October 2-16)
We're excited to share the great news with you that Council has approved utilizing a portion of funds donated so far to the Tiny Home project to sponsor a tiny home for a homeless veteran.  This home will be located in the first available permanent Sacred Settlement, which is likely to be a faith community in St. Paul as early as this winter. This effort is only possible because of the generous contributions of Faith members. Thank you for your contributions!
We are looking for congregation volunteers to help build this Tiny Home alongside other local faith communities at Woodland Hills Church in Maplewood from Oct. 2-16.  More information to come soon - stay tuned for details, including a 'Youth & Family Night' service opportunity to be part of this exciting project!
Sacred Settlement Survey (Complete by 9/30)
Our mission as a Development Team is to make sure that we are engaging in activities to fight homelessness that are in line with the congregation. If you can take ten minutes to complete a survey, either online (https://docs.google.com/forms/d/e/1FAIpQLSfTf50OMWqmCj4CERDstV33yMgC-qCbtod6QFhw8jTmWaCgwA/viewform?usp=sf_link) or by completing one of the paper copies in the church office, it will help inform our next steps in this process. We'll close the survey on 9/30 and share the results with the congregation by 10/31.  Thank you in advance for your feedback!
If you have any questions or comments on the Sacred Settlement, you can reach the development team at .
We are grateful for your participation in Faith's mission to be Led by the Spirit to share God's grace.