Servants of Christ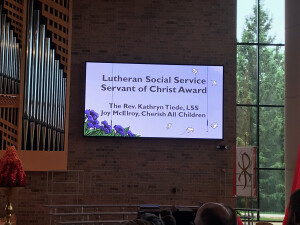 Faith was honored this year to receive the Lutheran Social Service "Servant of Christ Award," presented at the Saint Paul Area Synod Assembly.

Faith has been partnering with Cherish All Children on the issue of child sexual exploitation and trafficking for the past couple years. Our Human Trafficking task force has worked to educate and engage in actions to protect children.

The team partnered in hosting a Super Bowl Kick-off Event at Lutheran Social Services, to support anti-trafficking efforts around the Super Bowl. Shortly after, we hosted a Human Trafficking Community Presentation and heard from Assistant Washington County Attorney, Imran Ali, and local law enforcement about trafficking in our community and efforts to stop it.

Most recently, we hosted a showing of the film "Screenagers" for parents and teens in our community to open discussions in families about the online world and how to navigate this safely. This was a community event resulting in over 200 youth and parents coming together!

This team's commitment to keeping children and youth safe from the vulnerabilities society presents is remarkable.

In addition to this work, our Refugee Outreach team has supported Lutheran Social Services Refugee Outreach by serving as a refugee outfitter and providing supplies and home furnishings to new families that arrive in Minnesota. Since August of 2017, Faith has supported 5 families and is also helping to stock supplies in the transition house for families who arrive before their new home is ready.

Thank you, Human Trafficking and Refugee Outreach teams, for the work you do to support families!