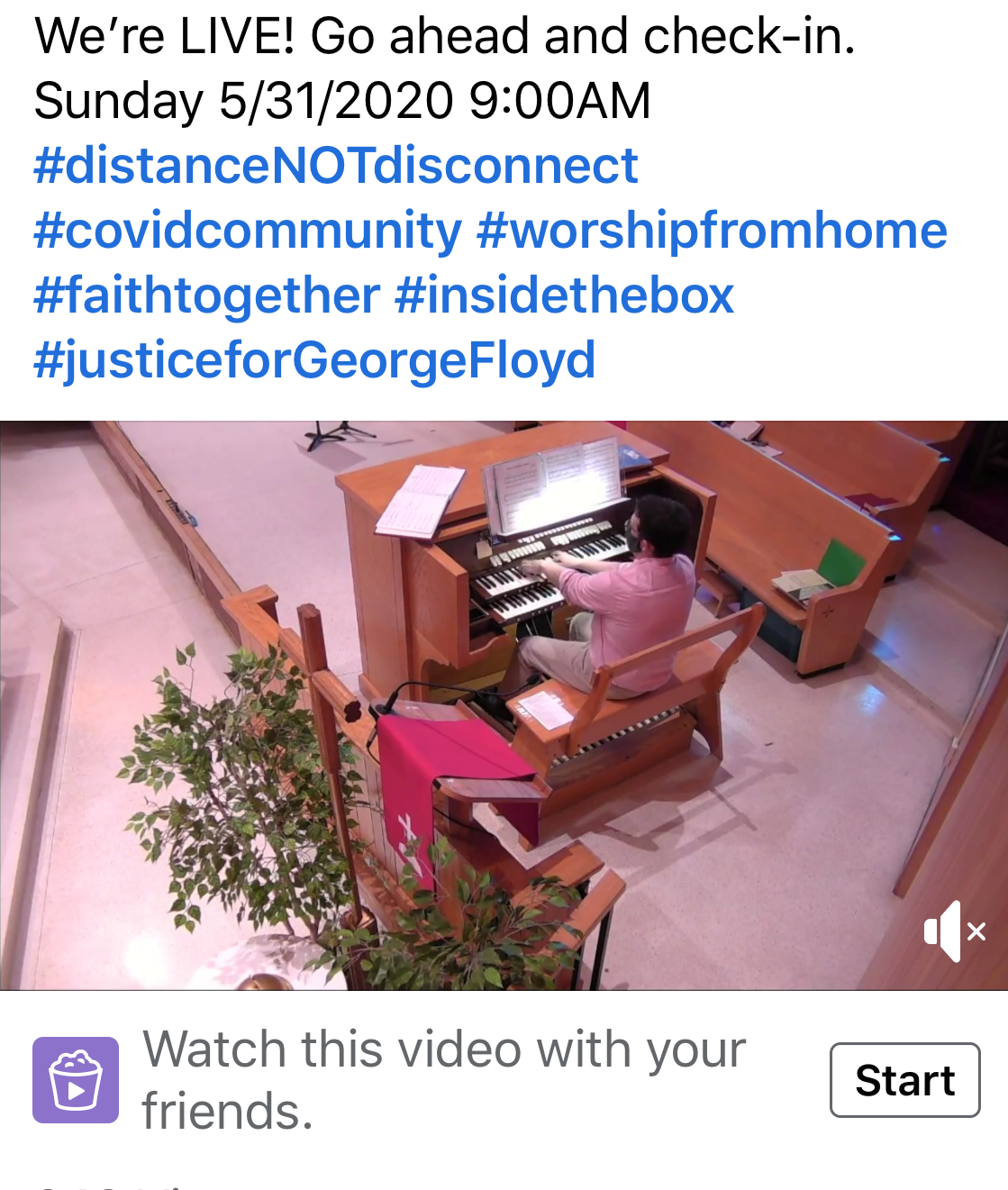 Slowly Re-engage
Hello Faith!
Covid 19 changed everything.
Faith Lutheran is a large congregation—pre-pandemic, 400 people would gather in worship on a Sunday. By the end of March, we quickly bolstered our online presence and strategy. We invested our resources into making worship accessible and excellent while we worship from home. You have noticed and we are witnessing large numbers of new visitors that have made Faith their "home" church. We now see well over 400 devices engaged with worship, not including many of you that
listen on the radio, which we don't have data to track.
Many of the elements of Sunday worship are being viewed, shared, or commented on via social media throughout the week.
As many people in our community were affected by the reduction in work, or the increase in responsibilities, church became an essential time to experience holy moments.
In the last two weeks, many of the businesses that were closed since the end of March began to reopen.
This includes some churches that have opened at 25% capacity, and now, following the new recommendations from Governor Walz, 50%.
I hear from people in the community who are excited to say that they are returning to their church buildings and look at me dumbfounded when I say that we aren't.
I went to the barbershop and the DMV this week. At both places, I had to make an online appointment in advance for a service that was provided in a very sterile environment. Both experiences felt much different than they have in the past. People who hadn't made an appointment stormed away angry.
As Faith explores the HOW of returning to worship, hopefully soon, I think we all will notice that being in the building won't feel like it used to. We might need to implement "appointment-only" worship at first. Our online presence will remain an essential form of worship.
Church, in person, would look like this (based off of current CDC guidance):
Mandatory face masks
No singing or responsive liturgy (all music would need to be prerecorded)
Communion would be "on the go" after the worship
No coffee, treats, or time to mingle in groups
The pews would be staggered and some seating areas might not be in the sanctuary in order to maintain distancing
Offering plates and sharing of the peace are not possible
When I hear from Faith members, the vast majority of you have told me that you'll wait until it's safer to return and will continue to worship from home.
I know that there are members from Faith that don't have the technology to watch the Livestream. I have heard from you too. Please know that the Be Well Faith committee, Council, and staff are evaluating plans to allow for communion and worship soon. Thank you for being patient as we plan activities the right way that will ensure the safety of you, our members, but also our staff and volunteers who lead worship.
What you CAN do?
If the fellowship aspect is what you are longing for, consider hosting worship with a group of 10 people at your home and watch together!
Continue to tell others about Faith! Worshiping from home is a GREAT first introduction to who we are and what we're all about. You might be surprised by how many people will be at church in person when the pandemic is under control and the restrictions are lifted!
Continue to pray for the wisdom and discernment of our Be Well Faith committee, staff, council, and me. We are faced with many difficult decisions that best serve the needs of our congregation and, as we continue to say, we Love our Neighbor, no exceptions! Thank you for being Faith in your homes and as you safely and slowly re-engage with the community.
God bless,
Pastor John