Veteran's Ministry
Recently, I returned from Bible Study at Keys Café when a visitor was waiting for me.
Chuck Tollefsrud is a veteran and lives in Chisago City by himself. His injuries from serving our nation have had a lasting effect on his back and neck, but Chuck's heart continues to grow stronger as he gives back to others.
Chuck told me about a time where he gave money to support St. Jude because their mission is to find cures for catastrophic childhood diseases, especially cancer. Chuck has a heart for helping kids.
St. Jude, upon receiving his financial support, invited him to a donor gala at the Armory near US Bank Stadium emceed by WCCO's Frank Vascellero.
Chuck recounted how they announced all the donors who attended and when they got to him, he was recognized as providing the largest donation!
Everyone stood up and cheered! Chuck is a humble guy and so the smile that crept on his face when re-telling this detail wasn't to pat himself on the back, but to demonstrate how exhilarating he felt to know his generosity was an inspiration to others!
Chuck had another check up his sleeve.
He handed me an envelope. He told me how much he appreciated all that Faith Lutheran is doing for our community and he wanted to help.
There was a note on the check designating his gift to help support kids who are hungry in school and homeless Veterans.
The check was for $50,000!
I thanked Chuck for his generosity (and thanked him, and thanked him!) and then the wheels started turning on what we would be able to do with this gift.
Faith has consistently had a passion for hunger ministry in the schools. We support Rangers Helping Rangers (stocking the food shelves in the schools), Hungry Minds Need Food (covering the lunch balances for students whose family don't qualify for free and reduced lunch, but struggle to pay the full amount), and our long-time tradition of having snack drives, school supply drives, and clothing drives.
Chuck's request to use his gift to support kids is a natural fit with existing ministries.
However, we have not had an intentional veteran's ministry at Faith, especially for homeless veterans.
Since getting that envelope, something has been stirring inside our church. We are discerning where to go next. We are in talks with a group to provide direct housing solutions on our property. These conversations and opportunities are fascinating and have opened up the hearts of our congregation in powerful ways. I can't wait to see where this leads.
Another young veteran in our church is inspired by this opportunity and is helping us coordinate with partner companies and organizations to provide the support needed to returning vets with PTSD and mental health challenges. He's remarked that the housing solution is great, but we also need to tend to the needs on the front end before veterans end up homeless.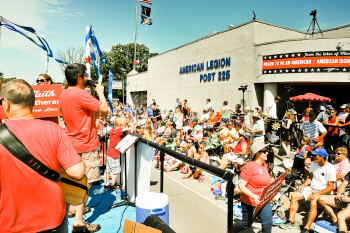 Forest Lake and the surrounding area has a passion and fire for this ministry. We will continue to need your support and partnership as we move forward.
I'm especially inspired by Chuck's heart and the lasting effect his legacy will leave.