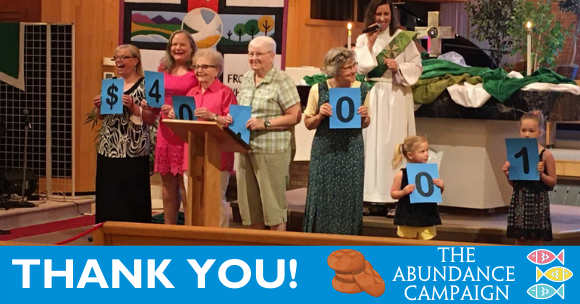 We Just Gave Away $20,000!
This spring we had a crazy idea to launch an Abundance Campaign. We invited you, Faith, to give out of your abundance with tax returns, bonuses, and government stimulus payments. We challenged you to ask if God was calling you to generosity out of your abundance. And we promised that we would be incredibly generous with your gifts, sharing 50% of everything given out into the community - supporting refugees, food shelves, and housing for our neighbors. We set a big goal of $50,000!
Our campaign ended earlier this summer with over $40,000 extra (over and above your regular/budget giving) coming in. An anonymous giver offered a $10,000 matching gift, which really motivated our congregation's excitement. We received 80 different donations from $20 - $2,000. With your generosity, we just gave away $20,000 to partners in the community. These funds were given to Support the YMCA summer feeding program, local food shelves, refugee outreach with Lutheran Social Services (LSS), the Hugo Family Shelter, Faith Direct Assistance Fund, and a leadership gift to the Saint Paul Area Synod Planting Hope campaign.
Thank you, Faith, for your generosity, faithfulness, and joy in sharing God's love.