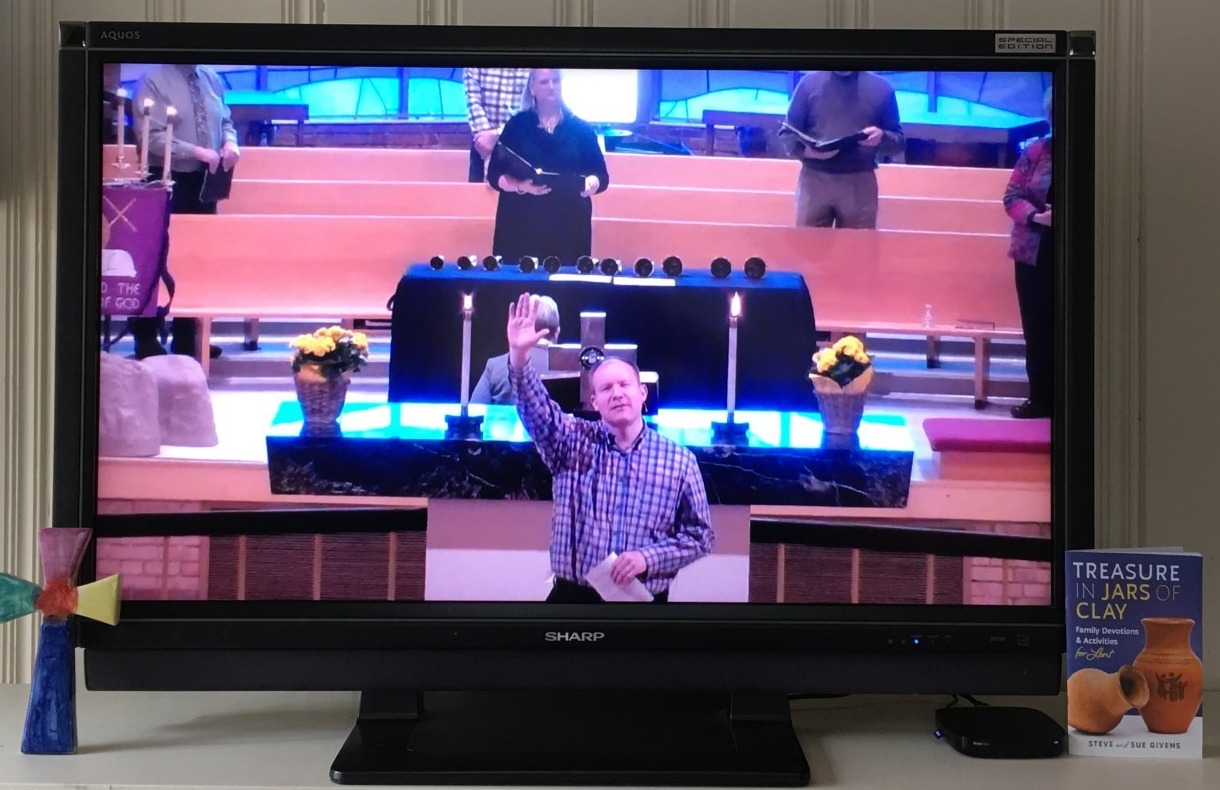 We Proclaim Hope in Despair
Dear Faith Supporter,
This is different, isn't it?
This Easter will be memorable for what it doesn't have: the church gathering together. There is genuine grief amongst us. One choir member texted me after a Livestream of our Wednesday night service:
"I just need to let you know that you are doing a wonderful job of leading streaming services, but I really miss the social time of a regular Sunday morning and the physical love of a church family. There's no remedy for this, but the necessary way to do it!"
I love and miss you too. I understand how the Apostle Paul must have felt writing letters from prison—most of my time is devoted to writing letters. Communicating. Calling and texting to check in.
A member texted me after church: "I made my 5 phone calls—keep the challenges coming!" You know what gives me hope? Our attendance and engagement at worship is higher than I've ever seen!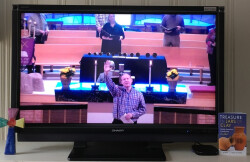 We have more devices (phones, tablets, computers) tuned in to our Livestream than we normally would have people in the building. Keep in mind that 1 device often includes 2 or more people (or 9 Klawiters) watching that device.
In this great pandemic, there is a spiritual awakening going on. My peers are experiencing the same thing at their churches. People are listening and watching!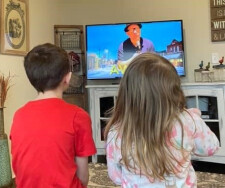 Families are making church a priority in their schedules. Young families are sending in pictures of their kids excitedly watching the "Word on the Street" children's messages or the musical offering of Shirley and Jolene Sunsten!
Faith Lutheran is delivering a high-quality worship experience to our congregation, with the sound/video system we installed thanks to your generosity in 2017. But our reach goes well beyond Forest Lake. We have worshippers across the state and country.
Our staff made a strategic pivot to embrace increasing engagement on social media with our congregation. The results have been amazing. Deacon Nina taught us how to make a home altar and the community responded with photos of their home altars being used for streaming worship. Linda Burk shared an uplifting solo of "My Life Flows On in Endless Song," that touched many who needed a boost. Nate Bergengren is interacting with everyone who worships with us on Facebook Live in real time, offering dynamic community response opportunities during worship.
Yes. We are physically distant, and we don't get to share coffee and a handshake, but we are not disconnected. God is leading Faith to come out of this darkness with a renewed sense of energy and purpose. The Holy Spirit truly is up to something.
I encourage you to share this good news as you invite others to Holy Week and Easter. We will stream worship on Holy Thursday AND Good Friday at 7 pm. Easter worship streaming is at our regular times of 9 and 10:30 am. Radio broadcast will include Good Friday at 7 and Easter Sunday at 9.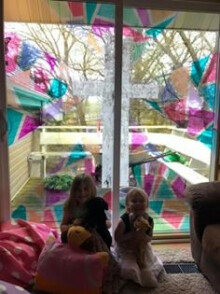 We want to hear from you. Do you have a prayer request or pastoral need—are you or someone you know directly affected financially or facing this crisis in the medical field? Email us at Do you have ideas for how we can be church together outside of our building? Please let us know!
Connections are important. Are you able to make phone calls to stay in touch? Would you benefit from a regular conversation with a member of Faith? Many new volunteers, as well as our Befrienders ministry, would love to talk to you. In the past you may have said, "I don't want to take that resource away from someone who needs it more than me!" Consider re-shaping your theology on this. The volunteers and Befrienders need YOU too! We have so many people stepping up and asking for people to call right now. What if you made a new friend during this pandemic? How amazing will it be to meet in-person when we can come together as society again?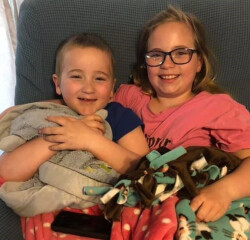 Consider making a special Easter offering to the mission and ministry of Faith. We understand that some of you may have new financial anxiety as employment becomes uncertain. Take care of your family first. However, others have stable incomes. Perhaps social distancing is keeping you from travel and other recreational activities, leaving you with greater capacity to give. If so, mail in a gift or give on-line. If you have a prayer/pastoral need, there are no financial obligations expected of you—Faith is here to support you!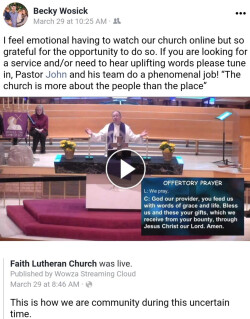 I miss seeing you but know that as I'm waving at the camera and greeting you in worship, I'm thinking of you and excited for the day when we finally get to come together again! People of God, this is our time to shine. We proclaim hope in despair and life in death. Let us be the church God calls us to be.
God bless,
Pastor John