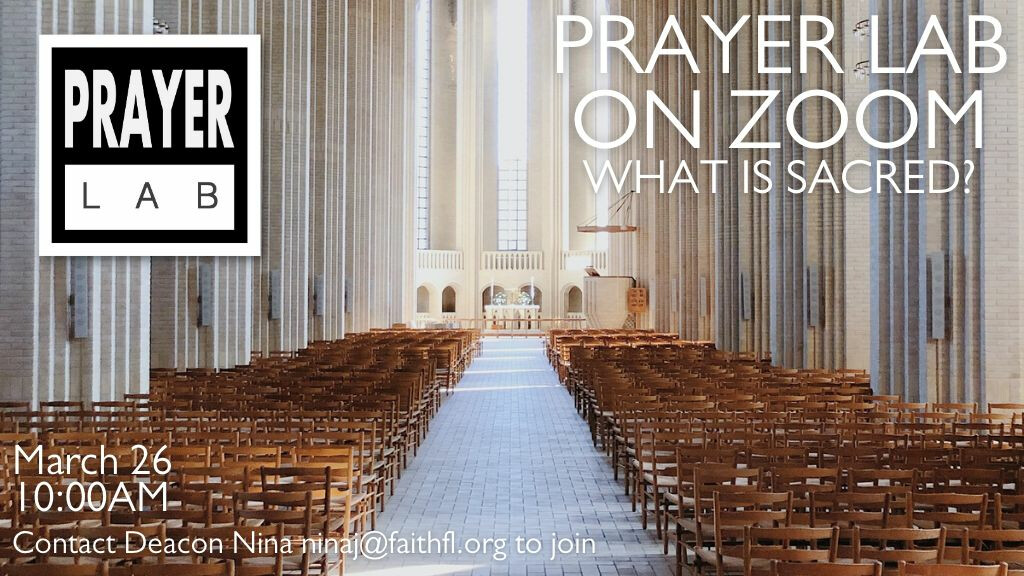 What is Sacred – a Hybrid Prayer Lab Session
Join us at 10:00 am for an interesting journey in defining what is sacred to you. In person or via Zoom at 10 am on Sunday, March 26 via Zoom (passcode 'breathe'). Contact Deacon Nina for specific information on joining the session or technical support.
In this prayer lab session, we will be exploring the term "Sacred" and how it influences our lives and our perception of the world we live in. In our fast-paced and commodified world, we are encouraged to fly at lightning speed and to relish the latest material thing or fleeting pleasure. During this Lenten season, we have tried to be a bit more contemplative and searching in our spiritual practices. Often times our lives drive us to seek some sort of spiritual refuge or respite from the dynamics and dysfunction of the society we live in. As we search for the "sacred" in our lives, join us to reflect on what is personally sacred to you and name that thing or experience. Our search for the sacred helps us to see the extraordinary in the ordinarily mundane. We will look to open our perceptions on qualities of the Divine, such as transcendence, ultimacy (essential and absolute truth), boundlessness, interconnectedness, and spiritual emotions. Practice in this arena is directly related to all other areas of our life.
More Prayer Lab information and resources are available at http://faithfl.org/prayer-lab/.