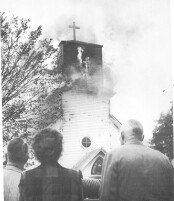 Once upon a time, Faith Lutheran burned to the ground. Like a phoenix, the congregation rose from the ashes and rebuilt a place to come worship our God and be in community with other believers. Now Faith Lutheran has an opportunity to make a difference that will help shape the next generations of believers.
Something is clearly stirring right now as we make decisions about how to move forward. I pray that we are able to hear God's call in how to be a congregation that transforms lives, in Christ's name, in the city of Forest Lake.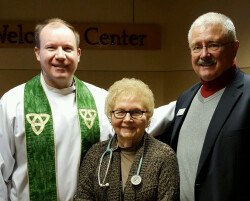 One event that stirred up the spirit at Faith was in July 2016, when we voted to sell the Dorothy Clingman estate and applied over $100,000 towards reducing the mortgage. We now have around $3 million left and monthly payments are $3,192 less than before the buy-down. This has allowed Faith to confidently add a part time visitation pastor, Rev. Steve Melander, and also to make sure that existing staff are fairly compensated and feel appreciated.
We have four areas of focus in our $250,800 capital campaign.
$96,000 for audio and visual sanctuary upgrades. You and those you invite can expect to be blown away at the sound quality--no more straining to hear or feeling like you missed something. With over $3 million in debt, why would we spend more money? Studies show that a good sound system can raise attendance 10-25%.
$100,000 for mortgage buy-down. The Clingman gift showed us how much more ministry we can do when our monthly payments are reduced. If we continue to grow, we will need more cash flow to add staff/pastoral leadership within the next 3 years.
$32,000 operating reserve. We can think of this from the negative: as a rainy day fund for when something goes wrong and we need money to cover a building expense or shortfall. Or as a positive: when an opportunity comes along that clearly would provide growth, we will have resources on hand to make smart decisions in the future.
$22,800 mission grand benevolence (Tithe). The Dorothy Clingman estate was tithes, and we are seeing how that money is applied to missional opportunities to partner with our community. Spiritual entrepreneurship lead to creative and active members looking at the community with the mindset that we can work together instead of worrying about having enough to do internal ministry. This model teaches the younger generations the importance of stewardship and how to trust God.
Hear God calling you!
Please prayerfully consider how much God is calling you to give to this campaign. Thank you, thank you, thank you!
Pastor John