Rumors of Lutefisk Cheesecake
Last fall, I penned a eulogy that appeared in the Forest Lake Times.
The decision was made to pull the plug on a beloved 70 year old whose time had come. We had some great times together. Lasting memories that will never be forgotten.
But ultimately, the spirit gave out and mercifully the Faith Lutheran Annual Lutefisk Dinner was laid to rest.
Some of the Lutefisk dinner's closest friends reflected on the first full year without it.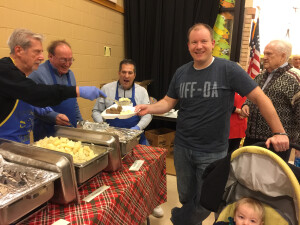 "I miss it," said Cathy Morehead. "It's hard to give up a tradition like that."
One of the leaders of the meal, Barb Carey, sighed as she recalled how preparing the meal was incredibly draining. "It was a lot of exhausting work that took a lot out of us with fewer hands able to help," said Carey. "It was time."
I asked Bob Hanson, one of the coordinators of the dinner, how he's doing.
"Well, I do miss the smell," said Hanson, tongue in cheek.
Hanson, a lutefisk loyalist, keeps his eyes open for other lutefisk dinners around the Twin Cities metro and attends as many as possible.
"My wife makes me leave my coat in the garage before coming inside," he said. "But you know, it [the odor] gets stuck in your hair."
With Faith no longer hosting the meal, he longingly remembers the good times spent with "Holy Tuesday" on the first Tuesday of December, the day that the Lutefisk Dinner was annually held.
I asked him if he did anything last year on the first anniversary of Holy Tuesday without the meal.
"I popped in a tv dinner and watched Christmas movies on the Hallmark channel," said Hanson. "It was a sad day."
A year later, Hanson is pleased to announce a "resurrection" of sorts.
"The Men of Faith are thrilled to celebrate Holy Tuesday again!" said Hanson. "We are hosting the 'Looney Lutherans', a comedy trio with their show Hold the Lutefisk, It's Beginning to Smell a Lot Like Christmas."
The Looney Lutherans are a trio of wacky gals who use music, comedy, and some help from the audience to share their age-old wisdom for living a long and lively life. Material is comedic and family friendly, and you don't have to be Lutheran to love it!
Instead of eating lutefisk, the Looney Lutherans will honor a Faith Lutheran tradition through humor. It's a roast without any cooking.
The show is on Tuesday, December 3rd, at 7 pm with dessert to follow. The Men of Faith are selling tickets for $15 with the proceeds supporting future community based Senior Ministry events.
"We're looking forward to have them here," said Hanson. "We're all Looney Lutherans, after all."
"I'm excited about the show because now I get to go," said Barb Carey, who won't have kitchen responsibilities this year.
"There are rumors there will be lutefisk cheesecake," said Hanson. "But you'll have to come find out for yourself."
I can't even imagine what that would smell like. I'm pretty sure he's kidding… right?