Church Council
Our council has general oversight of the life and activities of Faith, and in particular our worship life, to the end that everything be done in accordance with the Word of God and the faith and practice of the Evangelical Lutheran Church of America.
Email all council members at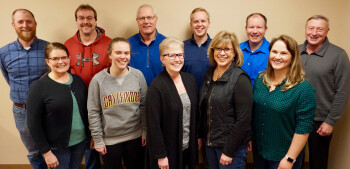 Back row: Matt Kocian; Mike Slavik; Dan Forsythe, Vice-President; Jon Siverson, President; Pastor John Klawiter; Joe Mollner, Treasurer
Front Row: Sandy Zarembinski; Abby Barsness; Tracey Daniel, Co-Secretary; Laurie Husfeldt, Co-Secretary; Jenna Katorski
History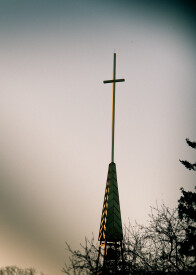 Faith Evangelical Lutheran Church of Forest Lake began as the Swedish Evangelical Lutheran Church in 1888 with Pastor Johannes Lundquist. Fifteen Swedish families and one Norwegian had settled in the area near the Scandinavian Cemetery and became the charter members of the church. The original church, built in 1892, burned in 1960 and was a total loss.
The present church was opened in 1962 and has been through several remodels and upgrades. Our beautiful sanctuary and chapel are the center of church life. Our two story education wing is home to Christian education for all ages. We have a 77 x 55 foot gym complete with two basketball hoops and a sound system that is a multipurpose space for events and more. A large fellowship area is used for everything from Wednesday night dinners to receptions and educational events.
History of the Faith Heritage Committee
Church Library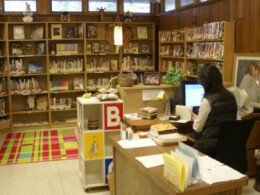 The mission of the Faith Church Library is to provide Christian materials to educate, empower, inspire, entertain and comfort all age groups in a friendly and helpful environment.
The library has more than 4,000 books, videos and DVD's available for checkout.


Memorial Prayer Garden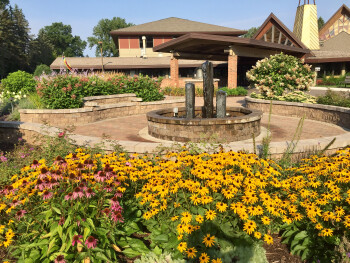 Our Memorial Prayer Garden is a meditative and beautifully landscaped place dedicated to both the saints who have gone before us and the saints still among us. It includes a Columbarium with niches, a Memory Wall with engraved names and engraved pavers. Landscaping includes a fountain, paved walkway and seating.
"A columbarium ministry revives the age-old obligation of the church to serve its members from baptism to death. Not only will this ministry satisfy the need for Christian burial, but it will bring past and present together - in body and spirit. Those who have come before us are once again part of the church community: Strengthening the ties between church and family, uniting the community of faith." (from THE LUTHERAN, May 2008, p. 25)
Prayer Garden Documents