We love kids! Your children are an important part of the church. During the pandemic, we are intentionally creating content to engage your children.
Sunday Morning Children's Messages
At our livestream services on Sundays at 9 and 10:30 we always include a special children's message, often using wacky pre-recorded videos with kids of our church participating.
Sunday School Information
We miss our families so much, however safety comes first! We are continuing with virtual Sunday School this fall. Each child will have take home bags for September and October. (We did take home bags for virtual Vacation Bible School and it worked well!) Bags will include weekly art projects, family devotional packet, backpack blessing gift, coloring sheets, and a few more fun items. You can pick up bags on Rally Sunday, September 13th, between 10 am and 12 noon.

To ensure we have enough bags for everyone, please register for Sunday School.
We will re-evaluate in October to determine if we will continue with virtual Sunday School for future months.
Vacation Bible School - comments from parents:

Emily Waldoch "Here is a picture of Sylvia's completed projects from virtual VBS. Violet was not interested in taking a picture, but had fun with the projects. "
Sarah Mundahl "The boys loved the story and craft from today! Thank you for the awesome video"!

We all fit together at Faith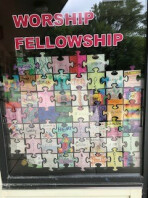 Look at how our puzzle is growing. Keep sending in your puzzle pieces.
Kids are Serving!
We invite children to color pictures, make art, or write cards to our homebound. Email to be added to the list of those who send mail to share God's love.
Safety
Faith seeks to provide a safe and secure environment for children who participate in programs and activities. All persons who desire to work with the children participating in our programs and activities will be screened.