Children & Youth Ministry 2019-2020 Calendar

Worship is a place for families. Your children are an important part of the church and are always welcome to worship. Children can build their own busy bag with materials outside the rear sanctuary doors. Activity tables in front of the side pews have coloring sheets, puzzles, and paper. Parents can site nearby and assist as needed. A staffed nursery, for ages 0 - 3 years is located in the education wing. Faith offers two Sunday school sessions: 9am and 10:30am.
Wednesday nights you can eat as a family from 5:30-6:30 and then participate in programs for all ages (including adults!) from 6:30-7:30 pm.
Sunday Morning
Activity Tables: For young children, to help on the days where there may be an extra wiggle or two (everyone has those days), there are activity tables in the front of the sanctuary to keep children busy with space for parents to sit nearby and assist as needed.
Busy Bags: Located right outside the sanctuary doors, your child can fill bags with different activities of their choice to use during worship.
Large Screen Worship Alternative: A large screen outside the sanctuary (with extra toys) is an alternative place for families to participate in worship.
Nursery: Our staffed nursery provides a safe and nurturing environment during worship services for ages 0-3.
Sunday School: Children 3 year old - 6th grade start in worship with parents and leave after the children's message for Sunday morning church school. Through songs, crafts and activities, children dig deeper into the gospel message.
Music: 3 year old - 2nd grade children's choir and handbells, 10-10:30.
Wednesday Evening
0 - 5 year olds: Early Childhood Family Education leads Drop-in Gym & Play from 6:30-7:30.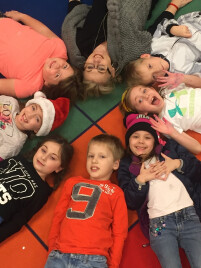 K-2nd grade BLAST (Believe, Learn and Seek Truth): Children start in worship at 6:30 at the kid tables in the front of the sanctuary. Then we move to a classroom to learn, play games, do crafts and have fun!
3rd - 6th grade Kids Connect: Children start in worship at 6:30, then have small group time that includes icebreakers, fun games, and arts and crafts. These mini-youth connect in friendship and fellowship with one another
in a nurturing faith-based environment.
3rd - 9th grade: FAME (Faith, Arts, and Music Explosion), 5:15-6:00pm
Safety
Faith seeks to provide a safe and secure environment for children who participate in programs and activities. All persons who desire to work with the children participating in our programs and activities will be screened.