Kids are awesome! We have modified our worship space to create more room at the front for kids to come forward for the children's message and added tables with craft activities which allows them a better chance to see what happens and learn the importance of worship.
We also understand that younger kids don't always sit still. An option is to view Worship service (we stream it live) on the large screen outside the sanctuary. Kids can be kids and parents can still be part of worship. We also have a great nursery staff who will care for little ones while parents attend worship.
Wednesday nights you can eat as a family from 5:30-6:30 and then come to a more relaxed and creative intergenerational worship service at 6:30. We have programs afterward from birth-12th grade from 7-8 pm.
Sunday Morning
Nursery: Our staffed nursery provides a safe and nurturing environment during worship services.
3 year old - 6th grade: Children start in worship with parents and leave after the children's message for Sunday morning church school. Through songs, crafts and activities, children dig deeper into the gospel message.
3 year old - 2nd grade: Children's choir and handbells, 10-10:30.
Wednesday Evening
0 - 5 year olds: Early Childhood Family Education leads Drop-in Gym & Play from 6:30-7:30.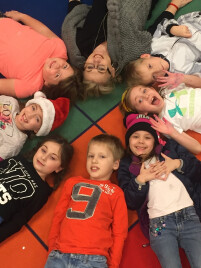 K-2nd grade BLAST (Believe, Learn and Seek Truth): Children start in worship at 6:30 at the kid tables in the front of the sanctuary. Then we move to a classroom to learn, play games, do crafts and have fun!
3rd - 6th grade Kids Connect: Children start in worship at 6:30, then have small group time that includes icebreakers, fun games, and arts and crafts. These mini-youth connect in friendship and fellowship with one another
in a nurturing faith-based environment.
3rd - 9th grade: FAME (Faith, Arts, and Music Explosion), 5:15-6:00pm
Safety
All teachers are required to submit to a background check. In addition all teacher helpers must attend training.