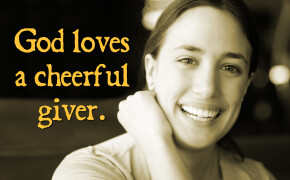 Value #1: Intentional
We make up our minds to develop a plan for giving, and then we "walk the walk" as we turn that plan into action. The Apostle Paul writes in 2 Corinthians 9: 6-7, "The one who sows sparingly will reap sparingly, and the one who sows bountifully will also reap bountifully. Each of you must give as you have made up your mind, not reluctantly or under compulsion."
Value #2: Regular
Regular giving is to establish a pattern in our giving and then follow that pattern. Whether working or retired, we are paid once a week, or twice a month, or once a month. There is a strong connection between intentional giving and regular giving. To be intentional means that we develop a plan for giving. To be regular means we follow that plan, according to our own specific way of receiving income.
Value #3: Generous
Generous giving is perhaps the most basic stewardship value, and is an indispensable and essential condition of discipleship. In Luke 12: 34, Jesus says, "For where your treasure is, there your heart will be also." If our treasure is with Jesus, then our heart is going to be there also. Unfortunately, if our treasure isn't with Jesus, then our heart is likely elsewhere as well. What is generous giving; 1%, 2%, 5%, 10%? God's incredible generosity is the basis for any call for generous giving. We can't out give God.
Value #4: First
This value grounded in Old Testament Scripture (Deuteronomy 26: 1-2) is easy to understand. Giving first means, give to God first and live off the rest. If we don't give to God first, we run the risk of short changing God every time as we chase after one dream or that dream, after this new product or that new product. If we are going to give generously, we need to give to God first.
Value #5: Proportional
The Bible always calls us to proportional giving. Nowhere in the Bible will we find something like, "Give $50." The language is always "Give in proportion to the blessings you have received." Those who have much or little are expected to give proportionately. The tithe, or ten percent, is obviously the best example of the Bible's teaching of proportional giving.
Value #6: Cheerful
Perhaps the best known Stewardship verse in the Bible comes from 2 Corinthians 9: 8, "God loves a cheerful giver." If the first five Stewardship values characterize our giving, we will be cheerful in our giving. If they don't, we won't. It is that simple. What God's people do with their money has a profound impact on their relationship with their Lord. We have God's promise that if we grow in our giving, we will grow in our relationship with Jesus.