Stewardship 2023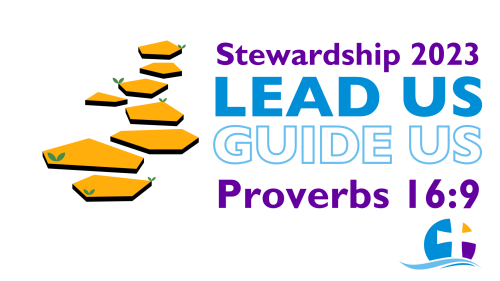 Our world is full of change and new challenges. At Faith, what remains consistent and unchanging is our focus on loving our neighbor. The message of Christ is timeless.
Led by the Spirit to Share God's Grace - we provide love, service, fellowship, and worship to a world in need. Faith Lutheran leads with an outward focus on the neighbor. We also care for each other through relational and experiential ministry.
On Reformation Sunday (October 30th), our newest class of confirmands affirmed their baptism and are ready to launch into the world—confident in the love of Christ in their life. Our newly hired youth ministry coordinator, Britta Dumke, continues to walk with them as they continue to support each other and grow in faith.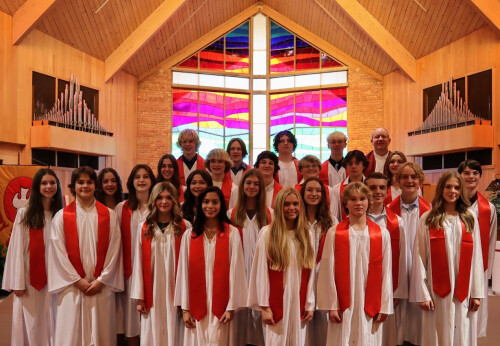 This class represents so much of the energy and enthusiasm at Faith. Each week this fall, I hear excited comments about the Sunday school kids or the confirmation students. We have great hope for what's to come!
Thank you for supporting our shared ministry going into 2023!
A Letter From Pastor John
Dear Friend in Faith,
Where is the Spirit leading Faith into a post-pandemic world?
The Saint Paul Area Synod capital campaign of Planting Hope is an important reminder of our work in Forest Lake. Faith Lutheran is a rooted church of stability and we are grounded in faith. Our deep-rooted faith is essential going into 2023. Thank you, Faith!!!
Our Stewardship Theme for 2023 is "Lead Us, Guide Us" based on Proverbs 16:9, from the Message translation by Eugene Peterson,which accurately described how our church council felt led by the Spirit: We plan the way we want to live, but only God makes us able to live it.
Last year, we had plans. Our stewardship goals:
Support a refugee family from Afghanistan.
Walk with our homeless neighbors.
Support and nurture the developing faith of children, youth, and families.
Care for each other and our worship facility.
We planned; God laughed. We didn't anticipate the Afghan family would decide that Minnesota wasn't nearly as warm as Texas. We went beyond Tiny Houses and created a new ministry called Faith Lends a Hand to provide for families facing eviction or housing crisis.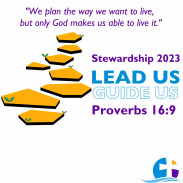 We asked, frequently, for you to help – with Hurricane Ian victims, to provide coats or snacks to local kids, and to plant crops to feed your neighbors. You responded with support that went beyond our plans, time and again.
In a day and age where we are bombarded with negative messaging, Faith Lutheran strives to live out another way. If we want a world of peace and grace, God shows us how we can live it. Faith Lutheran has been agile and adaptive during turbulent times to meet the needs of our congregation and the community. That's the work of the Holy Spirit!
What awaits us in 2023?
Meeting the needs of our neighbors and members. We will continue reaching out to support the community of Forest Lake as well as enhance our connections with each other, responding graciously in times of need.
Support the ministry of staff and the care of building/grounds through growing costs and inflation. The work of this congregation is vital and we will be stewards of all that God has entrusted to us.
Encourage faith development across all ages from Sunday School to Senior Fellowship. We will continue to help our children and youth grow in their faith and support adults through Prayer Lab Minute, Senior Fellowship and other initiatives.
Thank you, Faith Lutheran, for making plans and adapting to God's ways to live them out!
Pastor John Klawiter
Make Your Pledge
You can make your pledge online in two ways: by using the link below or by using the QR code.