Stewardship 2024

Fill Out the Statement of Intent
The beloved hymn, Great is Thy Faithfulness, was written in 1923 by Thomas Chisholm and was inspired by his understanding of God at work in our daily lives.
"My income has not been large," said Chisholm. "[But] I must not fail to record here the unfailing faithfulness of a covenant-keeping God and that [God] has given me many wonderful displays of [God's] providing care, for which I am filled with astonishing gratefulness."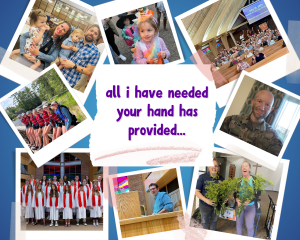 The heart of Faith Lutheran is on display through our trust in God's faithfulness. We plant seeds in the spring that become our harvest in the fall to share with our neighbors. We witness Faith-full testimony of many voices during Prayer Lab speaking to God's faithfulness in our lives. In faithfulness, you share your time, your resources, and your care for one another to truly be the body of Christ in our community.
With grateful hearts, Faith Lutheran continues to support one another inside our congregation—but also blesses us to serve our communities, places of work, homes, and neighborhoods.
I am filled with astonishing gratefulness that Faith Lutheran is in my life. Your love and care are a reflection of all we have needed God's hand has provided. Great is God's faithfulness, Lord, unto us.
Thank you for supporting our shared ministry going into 2024!
A Letter From Pastor John
Dear Friend in Faith,
Moses looks upon the promised land and is told that he will not enter. Instead, his trainee Joshua will lead the people into their new home (Deut 34). Joshua faced challenges and risks, but the LORD told him to lead with strength and courage. The LORD promised to always be there, and Joshua trusted this.
As I completed my training to be an Army chaplain this summer, we were challenged to consider how we would lead when we returned home. What is the future of our people? What will our role be in 2030 and beyond?
Talking about the future of Faith Lutheran in 2030 and beyond is exciting! We are leading in ways today that will impact the next generation. We support each other through our ministry inside and outside of the church. I get inspired as kids gather with curiosity around the altar for the children's message. I smile thinking about friends sharing a meal around the table at Senior Fellowship or getting to know someone on a deeper level through questions at our Brewed Theology conversations on Sunday mornings.
We will focus on the Faith-fullness of Faith Lutheran into the future on November 12th and 19th. We are an essential presence for our neighbors in Forest Lake and we are a worshiping community that proudly celebrates our inclusivity in sharing God's love. Thank you, Faith, for serving as ambassadors of God's grace with each other and the world.
As Faith Lutheran celebrates our 60th year on North Shore Drive, we remember how this congregation adapted over the changing times. Wise decisions were made in the past to take a risk and build a church at this location—way out in the country! Like Moses and Joshua, previous generations at Faith faced uncertainties, but they moved ahead with trust that God would provide. We worship in a beautiful sanctuary and an amazing facility because of the steadfast faithfulness of those ancestors of Faith.
I'm excited to see what God has in store for us. Faith Lutheran of 2030 and beyond will need to be mobile and adapt, while also remaining steadfast in the promises of God.
Thank you, Faith Lutheran, for your strength and courage in leading, especially as you prayerfully discern your financial gifts to our church for 2024. I'm excited for where the Spirit leads!
Pastor John Klawiter
Fill Out Your Statement of Intent
You can fill out your statement of Intent by using the link below or using the QR code below.