Stewardship 2022

At the end of the parable of the Good Samaritan in Luke 10, Jesus teaches us an important lesson. There is action involved with our faith.
Jesus asks, "Who was a neighbor to the man who fell in the hands of the robbers?" The lawyer says, "the one who showed mercy." The neighbor who took pity on the injured man was from Samaria - a foreigner. (In Luke 9, the disciples had asked Jesus to rain down fire from heaven and destroy Samaria.) The Samaritan is the model of faith who treats his neighbor the way he'd want to be treated.
Jesus sends the audience away with these words of encouragement: Go and do likewise.
When I hear those instructions, I'm simultaneously hopeful… and a little bit terrified.
Do likewise? There's MORE to do??? Sometimes, my plate feels full. Can you relate?
Throughout the pandemic, I've loved having more time with my family. We've gone on hikes, played together, and enjoyed a slower pace.
As this school year resumed, I noticed an uptick in the things "to do." More activities resumed, more events to attend, more busyness.
I also noticed burn-out. Medical professionals, educators, service industry workers, and yes, even within my clergy circles. People are tired.
The idea of asking you, Faith Lutheran, to DO more feels ambitious. But it's also a different ask. The ministry we do together brings healing to the world. This is truly life-giving. It fills my soul and strengthens my personal faith and my faith in humanity.
What we "do" is not on one person's shoulders. Our ministry is shared. We do this work, together. We show mercy and love. We go and do likewise by serving our neighbors and our community. How will you join us in 2022? Together we are powerful and can create a lasting impact.
Go and do likewise means that we walk with our homeless neighbor. We befriend the refugee. We care for each other and the church home we worship in. We support and
nurture the developing faith of our children, youth, and families. Vital ministry continues in all the ways we are called to "go and do" in our daily lives.
In 2022, Faith is moving forward, led by the Spirit to share God's grace. I'm so grateful for all the ways you give time from your busy lives, talent from your God-given abilities, and treasure from what God has given you. Here we GO, ready to DO likewise, together.
Pastor John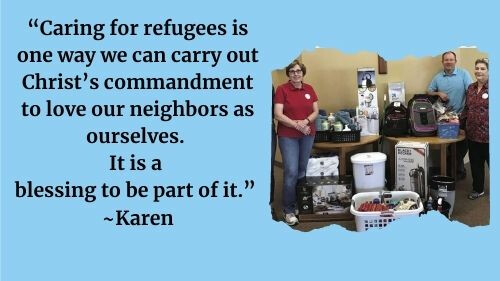 2021 Impact
In 2021...
We Shared God's Grace with your time and talent in 2021. From sharing garden veggies with our local food shelf, to breaking bread with neighbors coming out of homelessness, and providing welcome backpacks to refugees relocating to Minnesota.
Increased our mission support by $1,500 to local partners through the Saint Paul Area Synod.
Inspired congregational generosity through our Benevolence matching funds grants & Abundance Campaign, giving away $22,000 to on-the-ground partners.
Expanded our relational and supportive ministries with neighbors experiencing homelessness and refugees in our community.
We embraced Virtual Church 2.0. We strengthened our online presence to stay connected, nurture faith of our church family and to share God's love more broadly in our community.
Developed "Worship on Demand" and Sermon podcasts on our website.
Bolstered our church communications through our website and social media platforms.
Started the Faith Forward newsletter to share stories of God in action with our congregation.
We continued to listen and grow together through captivating preaching and worship; inclusion and equity learning opportunities; innovative children, youth, and family ministries; prayer ministry, and more!
Plans for 2022
In 2022 we will "Go & Do" at Faith with passion. Important growth and ongoing ministry will be possible with $51,000 in new offerings and gifts. Together let's live out our mission: Led by the Spirit to share God's grace.
Welcoming Refugees – We are called to "Go & Do" by becoming a Circle of Welcome congregation through our partners at Lutheran Social Services.
Walking with our Homeless Neighbors – We will continue to live out Jesus' call to be the ones who show mercy with neighbors experiencing homelessness.
Cultivating Faith in Children, Youth, and Families – With joy we encourage the faith development of our young people and their families through relationships and Christian education.
Caring for our Church Home – The Faith building is used for incredible ministry each and every week: from worship to preschool, classes to meetings, pastoral counseling to funeral luncheons. We want our space to be a hospitable launching post for God's work.
Statement of Intent
In response to God's love in Christ Jesus, please complete the following form in support of Faith Lutheran Church's ongoing ministry beginning January 1, 2022. Your pledged amount may be changed at any time by notifying the church office. Please click on the button below to fill out your statement of intent for 2022. Complete one per household by November 21, 2021.
Thank you for your generous support!